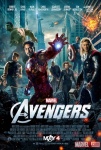 After the successful launching of new movie careers for Thor and Captain America last summer analysts began predicting some very big things for this spring's Marvel team-up movie, Joss Whedon's The Avengers, which teams Thor and Cap with Iron Man, Hulk, Hawkeye, Black Widow, and Nick Fury. Some industry observers even went so far as to predict a billion dollar plus worldwide box office total for the early May-debut Avengers film, similar to that achieved by Christopher Nolan's The Dark Knight in 2008. With Nolan's sequel The Dark Knight Rises also debuting this year, a battle royal between two heavyweight superhero movie blockbusters is almost sure to ensue this summer.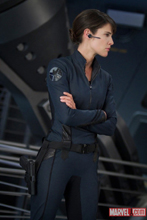 The only thing that really counts in this contest is the theatrical box office the films earn, but in the preliminary skirmishes
The Avengers
appears to be holding its own with
The Dark Knight Rises.
The first trailer for
The Avengers
(see "
The Avengers Movie Trailer
") set a new record on iTunes for the number of downloads during the first 24 hours that was quickly broken by the trailer for
The Dark Knight Rises
(see "
The Dark Knight Rises Trailer
"), which was downloaded 12.5 million times during its first day of release (see "
Dark Knight Rises Trailer Breaks Record
"). Then along came the second trailer for
The Avengers
(see "
New Avengers Trailer
"), which, according to
The Hollywood Reporter
, promptly set a new record of 13.7 million downloads during the first 24 hours.
One thing that could work against
The Avengers
is its two-and-one-half hour running time, which limits the number of showings per day. That running time, which has not yet been independently confirmed, was reported on
myvue.com
. While the 150-minute running time might make it more difficult for
The Avengers
to set a new opening weekend record,
The Dark Knight's
152-minute length proved that if the movie is good enough, even a running time that would have given Harry Cohn's hemorrhoids conniptions, can't keep it from setting all sorts of box office records. Plus
The Avengers
should benefit from the higher ticket prices from 3-D and IMAX showings.