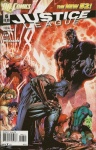 These are estimates of the sales on comic books by Diamond
U.S.
to comic specialty stores during February 2012.

For an overview and analysis of comic sales in February, see "DC Sweeps Top 10 Again in February"

For an analysis of the dollar trends in February, see "Comic Sales Boom in February."

For our estimates of actual sales by Diamond U.S. from comic specialty stores on graphic novels shipped during February, see "Top 300 Graphic Novels Actual--February 2012."


| | | | | | |
| --- | --- | --- | --- | --- | --- |
| | | TOP 300 COMICS -- February 2012 | | | |
| Rank | Index | Title | Price | Pub | Est.Qty |
| 1 | 105.38 | JUSTICE LEAGUE #6 | $3.99 | DC | 135,374 |
| 2 | 100.00 | BATMAN #6 | $2.99 | DC | 128,459 |
| 3 | 75.19 | ACTION COMICS #6 | $3.99 | DC | 96,592 |
| 4 | 73.50 | DETECTIVE COMICS #6 | $2.99 | DC | 94,415 |
| 5 | 73.24 | GREEN LANTERN #6 | $2.99 | DC | 94,087 |
| 6 | 60.05 | BATMAN THE DARK KNIGHT #6 | $2.99 | DC | 77,140 |
| 7 | 54.21 | SUPERMAN #6 | $2.99 | DC | 69,633 |
| 8 | 52.98 | FLASH #6 | $2.99 | DC | 68,061 |
| 9 | 49.39 | AQUAMAN #6 | $2.99 | DC | 63,450 |
| 10 | 49.12 | BATMAN AND ROBIN #6 [*] | $2.99 | DC | 63,093 |
| 11 | 46.58 | UNCANNY X-MEN #6 | $3.99 | MAR | 59,834 |
| 12 | 46.08 | UNCANNY X-MEN #7 | $3.99 | MAR | 59,200 |
| 13 | 43.43 | WOLVERINE AND X-MEN #5 | $3.99 | MAR | 55,788 |
| 14 | 43.08 | WOLVERINE AND X-MEN #6 | $3.99 | MAR | 55,341 |
| 15 | 42.18 | WONDER WOMAN #6 | $2.99 | DC | 54,190 |
| 16 | 42.12 | NEW AVENGERS #21 | $3.99 | MAR | 54,105 |
| 17 | 41.83 | AVENGERS X-SANCTION #3 | $3.99 | MAR | 53,730 |
| 18 | 41.35 | TEEN TITANS #6 | $2.99 | DC | 53,123 |
| 19 | 41.01 | AVENGERS #22 | $3.99 | MAR | 52,683 |
| 20 | 40.92 | AMAZING SPIDER-MAN #679 | $3.99 | MAR | 52,564 |
| 21 | 40.65 | AVENGERS #23 | $3.99 | MAR | 52,222 |
| 22 | 40.38 | AMAZING SPIDER-MAN #680 | $3.99 | MAR | 51,872 |
| 23 | 39.88 | NEW AVENGERS #22 | $3.99 | MAR | 51,235 |
| 24 | 39.65 | WINTER SOLDIER #1 | $2.99 | MAR | 50,932 |
| 25 | 39.43 | UNCANNY X-FORCE #21 | $3.99 | MAR | 50,654 |
| 26 | 39.41 | AMAZING SPIDER-MAN #679.1 | $2.99 | MAR | 50,624 |
| 27 | 39.17 | GREEN LANTERN NEW GUARDIANS #6 | $2.99 | DC | 50,319 |
| 28 | 38.66 | UNCANNY X-FORCE #22 | $3.99 | MAR | 49,665 |
| 29 | 38.32 | BATWOMAN #6 | $2.99 | DC | 49,227 |
| 30 | 37.24 | BATGIRL #6 [*] | $2.99 | DC | 47,836 |
| 31 | 37.16 | NIGHTWING #6 [*] | $2.99 | DC | 47,732 |
| 32 | 35.85 | GREEN LANTERN CORPS #6 [*] | $2.99 | DC | 46,051 |
| 33 | 35.51 | AVENGING SPIDER-MAN #4 | $3.99 | MAR | 45,622 |
| 34 | 35.24 | ULTIMATE COMICS SPIDER-MAN #7 | $3.99 | MAR | 45,266 |
| 35 | 33.85 | CAPTAIN AMERICA #8 | $3.99 | MAR | 43,487 |
| 36 | 33.29 | INCREDIBLE HULK #5 | $3.99 | MAR | 42,760 |
| 37 | 33.02 | FANTASTIC FOUR #603 | $2.99 | MAR | 42,419 |
| 38 | 32.10 | SWAMP THING #6 | $2.99 | DC | 41,235 |
| 39 | 32.04 | WINTER SOLDIER #2 | $2.99 | MAR | 41,164 |
| 40 | 31.59 | FF #15 | $2.99 | MAR | 40,583 |
| 41 | 30.62 | SECRET AVENGERS #22 | $3.99 | MAR | 39,337 |
| 42 | 30.44 | RED LANTERNS #6 [*] | $2.99 | DC | 39,105 |
| 43 | 29.94 | WOLVERINE #301 | $3.99 | MAR | 38,462 |
| 44 | 29.50 | DAREDEVIL #9 | $2.99 | MAR | 37,891 |
| 45 | 29.04 | CATWOMAN #6 [*] | $2.99 | DC | 37,302 |
| 46 | 28.91 | SECRET AVENGERS #23 | $3.99 | MAR | 37,140 |
| 47 | 28.73 | X-MEN #24 | $3.99 | MAR | 36,906 |
| 48 | 28.40 | X-MEN #25 | $3.99 | MAR | 36,488 |
| 49 | 28.38 | X-MEN LEGACY #262 | $2.99 | MAR | 36,461 |
| 50 | 28.33 | DEADPOOL #50 | $3.99 | MAR | 36,392 |
| 51 | 27.95 | RED HOOD AND THE OUTLAWS #6 [*] | $2.99 | DC | 35,908 |
| 52 | 27.30 | MIGHTY THOR #11 | $3.99 | MAR | 35,066 |
| 53 | 27.13 | SUPERGIRL #6 [*] | $2.99 | DC | 34,847 |
| 54 | 26.98 | ANIMAL MAN #6 [*] | $2.99 | DC | 34,654 |
| 55 | 26.88 | JUSTICE LEAGUE DARK #6 [*] | $2.99 | DC | 34,524 |
| 56 | 26.69 | WOLVERINE AND X-MEN ALPHA AND OMEGA #2 | $3.99 | MAR | 34,286 |
| 57 | 26.36 | ULTIMATE COMICS ULTIMATES #7 | $3.99 | MAR | 33,863 |
| 58 | 26.31 | SCARLET SPIDER #2 | $2.99 | MAR | 33,794 |
| 59 | 26.30 | JUSTICE LEAGUE INTERNATIONAL #6 [*] | $2.99 | DC | 33,781 |
| 60 | 26.12 | DEFENDERS #3 | $3.99 | MAR | 33,548 |
| 61 | 25.82 | VENOM #13 | $3.99 | MAR | 33,174 |
| 62 | 25.49 | INVINCIBLE IRON MAN #513 | $3.99 | MAR | 32,748 |
| 63 | 25.19 | WALKING DEAD #94 (MR) | $2.99 | IMA | 32,361 |
| 64 | 25.19 | ULTIMATE COMICS X-MEN #7 | $3.99 | MAR | 32,353 |
| 65 | 24.19 | SUPERBOY #6 [*] | $2.99 | DC | 31,068 |
| 66 | 23.99 | ULTIMATE COMICS X-MEN #8 | $3.99 | MAR | 30,822 |
| 67 | 23.74 | ASTONISHING X-MEN #47 | $3.99 | MAR | 30,490 |
| 68 | 23.26 | BTVS SEASON 9 FREEFALL #6 | $2.99 | DAR | 29,878 |
| 69 | 22.46 | MAGIC THE GATHERING #1 | $3.99 | IDW | 28,858 |
| 70 | 22.01 | CARNAGE USA #3 | $3.99 | MAR | 28,272 |
| 71 | 21.60 | SUICIDE SQUAD #6 [*] | $2.99 | DC | 27,751 |
| 72 | 21.42 | VENOM #13.1 | $2.99 | MAR | 27,520 |
| 73 | 21.37 | DEADPOOL #51 | $2.99 | MAR | 27,458 |
| 74 | 21.28 | BIRDS OF PREY #6 [*] | $2.99 | DC | 27,338 |
| 75 | 21.14 | VENOM #13.2 | $2.99 | MAR | 27,155 |
| 76 | 21.12 | VENOM #13.4 | $2.99 | MAR | 27,135 |
| 77 | 21.09 | GREEN ARROW #6 [*] | $2.99 | DC | 27,087 |
| 78 | 20.99 | VENOM #13.3 | $2.99 | MAR | 26,969 |
| 79 | 20.70 | BATMAN BEYOND UNLIMITED #1 | $3.99 | DC | 26,589 |
| 80 | 20.45 | CAPTAIN AMERICA AND BUCKY #627 | $2.99 | MAR | 26,276 |
| 81 | 20.30 | STORMWATCH #6 | $2.99 | DC | 26,076 |
| 82 | 19.01 | FEAR ITSELF FEARLESS #9 | $2.99 | MAR | 24,423 |
| 83 | 18.99 | FEAR ITSELF FEARLESS #8 | $2.99 | MAR | 24,394 |
| 84 | 18.96 | X-FACTOR #231 | $2.99 | MAR | 24,362 |
| 85 | 18.82 | X-FACTOR #232 | $2.99 | MAR | 24,173 |
| 86 | 18.57 | MAGIC THE GATHERING #2 | $3.99 | IDW | 23,849 |
| 87 | 18.34 | ALL STAR WESTERN #6 [*] | $3.99 | DC | 23,553 |
| 88 | 18.11 | NEW MUTANTS #37 | $2.99 | MAR | 23,262 |
| 89 | 17.64 | NEW MUTANTS #38 | $2.99 | MAR | 22,656 |
| 90 | 17.51 | PUNISHER #8 | $2.99 | MAR | 22,488 |
| 91 | 17.38 | JOURNEY INTO MYSTERY #634 | $2.99 | MAR | 22,323 |
| 92 | 17.33 | HUNTRESS #5 | $2.99 | DC | 22,259 |
| 93 | 17.12 | MOON KNIGHT #10 | $3.99 | MAR | 21,986 |
| 94 | 17.10 | AVENGERS ACADEMY #25 | $2.99 | MAR | 21,963 |
| 95 | 16.93 | HULK #48 | $2.99 | MAR | 21,751 |
| 96 | 16.84 | AVENGERS ACADEMY #26 | $2.99 | MAR | 21,633 |
| 97 | 16.45 | DEMON KNIGHTS #6 [*] | $2.99 | DC | 21,128 |
| 98 | 16.41 | LEGION OF SUPER HEROES #6 [*] | $2.99 | DC | 21,085 |
| 99 | 16.01 | CONAN THE BARBARIAN #1 | $3.50 | DAR | 20,569 |
| 100 | 15.81 | FATALE #2 [*] (MR) | $3.50 | IMA | 20,315 |
| 101 | 15.18 | THUNDERBOLTS #170 | $2.99 | MAR | 19,505 |
| 102 | 15.16 | BATWING #6 [*] | $2.99 | DC | 19,479 |
| 103 | 14.93 | SAVAGE HAWKMAN #6 [*] | $2.99 | DC | 19,184 |
| 104 | 14.93 | DEATHSTROKE #6 [*] | $2.99 | DC | 19,175 |
| 105 | 14.80 | BATMAN ODYSSEY VOL 2 #5 | $3.99 | DC | 19,013 |
| 106 | 14.63 | STAR WARS DAWN O/T JEDI FORCE STORM #1 | $3.50 | DAR | 18,797 |
| 107 | 14.61 | TEENAGE MUTANT NINJA TURTLES ONGOING #7 | $3.99 | IDW | 18,769 |
| 108 | 14.34 | FRANKENSTEIN AGENT OF SHADE #6 [*] | $2.99 | DC | 18,417 |
| 109 | 14.25 | GENERATION HOPE #16 | $2.99 | MAR | 18,310 |
| 110 | 14.14 | DC UNIVERSE PRESENTS #6 [*] | $2.99 | DC | 18,169 |
| 111 | 13.99 | PENGUIN PAIN AND PREJUDICE #5 | $2.99 | DC | 17,974 |
| 112 | 13.92 | THIEF OF THIEVES #1 [*] | $2.99 | IMA | 17,877 |
| 113 | 13.90 | ANGEL & FAITH #7 | $2.99 | DAR | 17,852 |
| 114 | 13.90 | MAGNETO NOT A HERO #4 | $2.99 | MAR | 17,852 |
| 115 | 13.81 | PUNISHERMAX #22 (MR) | $3.99 | MAR | 17,738 |
| 116 | 13.62 | LEGION LOST #6 [*] | $2.99 | DC | 17,502 |
| 117 | 13.52 | FABLES #114 (MR) | $2.99 | DC | 17,374 |
| 118 | 13.44 | STAR WARS DAWN O/T JEDI FORCE STORM #0 | $3.50 | DAR | 17,260 |
| 119 | 13.43 | FURY OF FIRESTORM THE NUCLEAR MEN #6 [*] | $2.99 | DC | 17,246 |
| 120 | 13.04 | BATTLE SCARS #4 | $2.99 | MAR | 16,753 |
| 121 | 13.01 | RESURRECTION MAN #6 [*] | $2.99 | DC | 16,712 |
| 122 | 12.94 | BOYS #63 (MR) | $3.99 | DE | 16,629 |
| 123 | 12.87 | DAKEN DARK WOLVERINE #21 | $2.99 | MAR | 16,538 |
| 124 | 12.72 | I VAMPIRE #6 [*] | $2.99 | DC | 16,338 |
| 125 | 12.65 | SHADE #5 | $2.99 | DC | 16,255 |
| 126 | 12.65 | GRIFTER #6 [*] | $2.99 | DC | 16,251 |
| 127 | 12.51 | STEPHEN KING JOE HILL ROAD RAGE #1 | $3.99 | IDW | 16,066 |
| 128 | 12.33 | ARCHIE #630 (ARCHIE MEETS KISS PT 4 ) | $2.99 | ARC | 15,838 |
| 129 | 12.16 | TEENAGE MUTANT NINJA TURTLES MICRO SERIES #3 | $3.99 | IDW | 15,617 |
| 130 | 11.93 | BLUE BEETLE #6 [*] | $2.99 | DC | 15,331 |
| 131 | 11.92 | LEGION SECRET ORIGIN #5 | $2.99 | DC | 15,310 |
| 132 | 11.51 | VOODOO #6 [*] | $2.99 | DC | 14,780 |
| 133 | 11.21 | INVINCIBLE #88 | $2.99 | IMA | 14,405 |
| 134 | 11.20 | STAR TREK LEGION OF SUPERHEROES #5 | $3.99 | IDW | 14,381 |
| 135 | 11.13 | DARK TOWER GUNSLINGER WAY STATION #3 | $3.99 | MAR | 14,302 |
| 136 | 11.12 | HAWK AND DOVE #6 [*] | $2.99 | DC | 14,291 |
| 137 | 11.11 | AMERICAN VAMPIRE #24 (MR) | $2.99 | DC | 14,278 |
| 138 | 10.94 | INVINCIBLE #89 | $2.99 | IMA | 14,048 |
| 139 | 10.83 | TWELVE #9 | $2.99 | MAR | 13,915 |
| 140 | 10.66 | CAPTAIN ATOM #6 [*] | $2.99 | DC | 13,698 |
| 141 | 10.64 | STAR WARS CRIMSON EMPIRE III EMPIRE LOST #4 | $3.50 | DAR | 13,666 |
| 142 | 10.56 | POWERS #8 (MR) | $3.95 | MAR | 13,561 |
| 143 | 10.52 | BLACK PANTHER MOST DANGEROUS MAN ALIVE #529 | $2.99 | MAR | 13,516 |
| 144 | 10.43 | SPACEMAN #4 (MR) | $2.99 | DC | 13,394 |
| 145 | 10.37 | STAR WARS KNIGHTS OF THE OLD REPUBLIC WAR #2 | $3.50 | DAR | 13,318 |
| 146 | 10.16 | STAR WARS DARK TIMES OUT O/T WILDERNESS #4 | $2.99 | DAR | 13,046 |
| 147 | 10.07 | TWELVE #10 | $2.99 | MAR | 12,930 |
| 148 | 10.05 | X-CLUB #3 | $2.99 | MAR | 12,911 |
| 149 | 9.86 | SPAWN #216 | $2.99 | IMA | 12,671 |
| 150 | 9.84 | OMAC #6 [*] | $2.99 | DC | 12,646 |
| 151 | 9.69 | GAME OF THRONES #6 (MR) | $3.99 | DE | 12,448 |
| 152 | 9.69 | STAR WARS AGENT O/T EMPIRE IRON ECLIPSE #3 | $3.50 | DAR | 12,442 |
| 153 | 9.65 | ADVENTURE TIME #1 | $3.99 | BOO | 12,392 |
| 154 | 9.54 | BPRD HELL ON EARTH LONG DEATH #1 | $3.50 | DAR | 12,258 |
| 155 | 9.54 | DC UNIVERSE ONLINE LEGENDS #23 | $2.99 | DC | 12,250 |
| 156 | 9.40 | DC UNIVERSE ONLINE LEGENDS #24 | $2.99 | DC | 12,072 |
| 157 | 9.33 | DEADPOOL MAX 2 #5 (MR) | $3.99 | MAR | 11,982 |
| 158 | 9.23 | CHEW #24 (MR) | $2.99 | IMA | 11,861 |
| 159 | 9.18 | VILLAINS FOR HIRE #3 | $2.99 | MAR | 11,787 |
| 160 | 9.16 | STATIC SHOCK #6 [*] | $2.99 | DC | 11,773 |
| 161 | 9.09 | TRANSFORMERS MORE THAN MEETS EYE ONGOING #2 | $3.99 | IDW | 11,671 |
| 162 | 9.07 | TRANSFORMERS ROBOTS IN DISGUISE ONGOING #2 | $3.99 | IDW | 11,655 |
| 163 | 9.04 | STAR TREK ONGOING #6 | $3.99 | IDW | 11,616 |
| 164 | 9.03 | MISTER TERRIFIC #6 [*] | $2.99 | DC | 11,601 |
| 165 | 8.85 | DARKNESS #100 (MR) | $4.99 | IMA | 11,363 |
| 166 | 8.56 | HAUNT #21 | $2.99 | IMA | 11,000 |
| 167 | 8.46 | MEN OF WAR #6 [*] | $3.99 | DC | 10,872 |
| 168 | 8.46 | DANGER GIRL REVOLVER #2 | $3.99 | IDW | 10,870 |
| 169 | 8.45 | RAY #3 | $2.99 | DC | 10,859 |
| 170 | 8.43 | WARLORD OF MARS #15 | $3.99 | DE | 10,827 |
| 171 | 8.41 | WARLORD OF MARS DEJAH THORIS #10 (MR) | $3.99 | DE | 10,809 |
| 172 | 8.35 | BLACKHAWKS #6 [*] | $2.99 | DC | 10,730 |
| 173 | 8.24 | PEANUTS #2 | $3.99 | BOO | 10,584 |
| 174 | 8.19 | LORD OF THE JUNGLE #2 (MR) | $3.99 | DE | 10,525 |
| 175 | 8.18 | AVENGERS SOLO #5 | $3.99 | MAR | 10,509 |
| 176 | 7.93 | KING CONAN PHOENIX ON THE SWORD #2 | $3.50 | DAR | 10,185 |
| 177 | 7.73 | THOR DEVIANTS SAGA #4 | $3.99 | MAR | 9,928 |
| 178 | 7.71 | GARTH ENNIS JENNIFER BLOOD #9 (MR) | $3.99 | DE | 9,906 |
| 179 | 7.67 | VAMPIRELLA #14 | $3.99 | DE | 9,851 |
| 180 | 7.66 | LOBSTER JOHNSON THE BURNING HAND #2 | $3.50 | DAR | 9,837 |
| 181 | 7.62 | UNWRITTEN #34 (MR) | $2.99 | DC | 9,789 |
| 182 | 7.50 | KEVIN SMITH BIONIC MAN #6 | $3.99 | DE | 9,640 |
| 183 | 7.47 | UNWRITTEN #34.5 (MR) | $2.99 | DC | 9,595 |
| 184 | 7.44 | HELLBLAZER #288 (MR) | $2.99 | DC | 9,553 |
| 185 | 7.36 | GI JOE VOL 2 ONGOING #10 | $3.99 | IDW | 9,458 |
| 186 | 7.21 | MORNING GLORIES #16 (MR) | $2.99 | IMA | 9,260 |
| 187 | 7.13 | ARMY OF DARKNESS ONGOING #1 | $3.99 | DE | 9,164 |
| 188 | 7.00 | INFESTATION 2 TRANSFORMERS #2 | $3.99 | IDW | 8,994 |
| 189 | 6.98 | THUNDER AGENTS VOL 2 #4 | $2.99 | DC | 8,970 |
| 190 | 6.97 | INFESTATION 2 TRANSFORMERS #1 | $3.99 | IDW | 8,959 |
| 191 | 6.95 | WITCHBLADE #153 CVR A CHRISTOPHER | $2.99 | IMA | 8,923 |
| 192 | 6.91 | KEVIN SMITH BIONIC MAN #7 | $3.99 | DE | 8,873 |
| 193 | 6.83 | GI JOE A REAL AMERICAN HERO #175 | $3.99 | IDW | 8,777 |
| 194 | 6.73 | GARTH ENNIS NINJETTES #1 (MR) | $3.99 | DE | 8,646 |
| 195 | 6.66 | WARRIORS OF MARS #1 (MR) | $3.99 | DE | 8,550 |
| 196 | 6.65 | SONIC THE HEDGEHOG #233 | $2.99 | ARC | 8,542 |
| 197 | 6.63 | GHOSTBUSTERS ONGOING #6 | $3.99 | IDW | 8,513 |
| 198 | 6.62 | GODZILLA KINGDOM OF MONSTERS #12 | $3.99 | IDW | 8,509 |
| 199 | 6.61 | SONIC THE HEDGEHOG #234 | $2.99 | ARC | 8,491 |
| 200 | 6.58 | LOCKE & KEY CLOCKWORKS #4 | $3.99 | IDW | 8,452 |
| 201 | 6.50 | IZOMBIE #22 (MR) | $2.99 | DC | 8,344 |
| 202 | 6.49 | RED SONJA WITCHBLADE #1 | $3.99 | DE | 8,336 |
| 203 | 6.37 | SNAKE EYES ONGOING (IDW) #10 | $3.99 | IDW | 8,186 |
| 204 | 6.33 | COBRA ONGOING #10 | $3.99 | IDW | 8,134 |
| 205 | 6.33 | SEVERED #7 (MR) | $2.99 | IMA | 8,134 |
| 206 | 6.29 | HELLRAISER #10 (MR) | $3.99 | BOO | 8,076 |
| 207 | 6.28 | GLORY #23 | $2.99 | IMA | 8,067 |
| 208 | 6.21 | VOLTRON #3 | $3.99 | DE | 7,977 |
| 209 | 6.18 | DARK HORSE PRESENTS #8 | $7.99 | DAR | 7,936 |
| 210 | 6.17 | INFESTATION 2 DUNGEONS & DRAGONS #1 | $3.99 | IDW | 7,925 |
| 211 | 6.12 | TINY TITANS #49 | $2.99 | DC | 7,862 |
| 212 | 6.11 | DARK HORSE PRESENTS #9 | $7.99 | DAR | 7,851 |
| 213 | 6.06 | GREEN HORNET #22 | $3.99 | DE | 7,789 |
| 214 | 6.05 | IRREDEEMABLE #34 | $3.99 | BOO | 7,772 |
| 215 | 5.98 | HELLRAISER #11 (MR) | $3.99 | BOO | 7,676 |
| 216 | 5.96 | GFT ALICE IN WONDERLAND #2 (MR) | $2.99 | ZEN | 7,659 |
| 217 | 5.94 | ARTIFACTS #14 | $3.99 | IMA | 7,630 |
| 218 | 5.91 | RALPH WIGGUM COMICS #1 | $2.99 | BON | 7,586 |
| 219 | 5.90 | SWEET TOOTH #30 (MR) | $2.99 | DC | 7,584 |
| 220 | 5.90 | GI JOE A REAL AMERICAN HERO ANNUAL #1 | $7.99 | IDW | 7,573 |
| 221 | 5.90 | SPONGEBOB COMICS #7 | $2.99 | UNI | 7,573 |
| 222 | 5.89 | LADY DEATH (ONGOING) #14 (MR) | $3.99 | AVA | 7,562 |
| 223 | 5.87 | DUNGEONS AND DRAGONS #15 | $3.99 | IDW | 7,540 |
| 224 | 5.84 | DOROTHY AND WIZARD IN OZ #5 | $3.99 | MAR | 7,503 |
| 225 | 5.83 | WARLORD OF MARS ANNUAL #1 (MR) | $4.99 | DE | 7,492 |
| 226 | 5.80 | GODZILLA LEGENDS #4 | $3.99 | IDW | 7,455 |
| 227 | 5.77 | STRANGE TALENT OF LUTHER STRODE #5 (MR) | $2.99 | IMA | 7,415 |
| 228 | 5.75 | STRAIN #3 (MR) | $3.50 | DAR | 7,384 |
| 229 | 5.73 | JOE HILL THE CAPE #4 | $3.99 | IDW | 7,364 |
| 230 | 5.64 | KIRBY GENESIS CAPTAIN VICTORY #3 | $3.99 | DE | 7,244 |
| 231 | 5.63 | YOUNG JUSTICE #13 | $2.99 | DC | 7,237 |
| 232 | 5.63 | DUNGEONS & DRAGONS DRIZZT #5 | $3.99 | IDW | 7,237 |
| 233 | 5.61 | FLASH GORDON ZEITGEIST #3 | $3.99 | DE | 7,203 |
| 234 | 5.59 | DOCTOR WHO ONGOING VOL 2 #14 | $3.99 | IDW | 7,175 |
| 235 | 5.57 | THE LONE RANGER #2 | $3.99 | DE | 7,151 |
| 236 | 5.53 | ALL NEW BATMAN THE BRAVE AND THE BOLD #16 | $2.99 | DC | 7,105 |
| 237 | 5.52 | RED SONJA #63 | $3.99 | DE | 7,095 |
| 238 | 5.49 | INFESTATION 2 DUNGEONS & DRAGONS #2 | $3.99 | IDW | 7,057 |
| 239 | 5.45 | GRIMM FAIRY TALES #67 (MR) | $2.99 | ZEN | 6,998 |
| 240 | 5.43 | RED SONJA #64 | $3.99 | DE | 6,977 |
| 241 | 5.35 | MY GREATEST ADVENTURE #5 | $3.99 | DC | 6,868 |
| 242 | 5.30 | GI JOE 2 RETALIATION MOVIE PREQUEL #1 | $3.99 | IDW | 6,802 |
| 243 | 5.29 | SIMPSONS COMICS #187 | $2.99 | BON | 6,800 |
| 244 | 5.29 | SONIC UNIVERSE #37 | $2.99 | ARC | 6,793 |
| 245 | 5.14 | NORTHLANDERS #48 (MR) | $2.99 | DC | 6,609 |
| 246 | 5.05 | HACK SLASH #13 (MR) | $3.50 | IMA | 6,483 |
| 247 | 5.02 | HALO FALL OF REACH INVASION #2 | $3.99 | MAR | 6,446 |
| 248 | 4.99 | NEXT MEN AFTERMATH #40 | $3.99 | IDW | 6,415 |
| 249 | 4.98 | FATHOM VOL 4 #4 | $3.50 | ASP | 6,401 |
| 250 | 4.98 | GI JOE 2 RETALIATION MOVIE PREQUEL #2 | $3.99 | IDW | 6,392 |
| 251 | 4.92 | RASL #13 (MR) | $3.50 | CAR | 6,319 |
| 252 | 4.87 | NO PLACE LIKE HOME #1 JORDAN CVR (MR) | $2.99 | IMA | 6,258 |
| 253 | 4.82 | INCORRUPTIBLE #27 | $3.99 | BOO | 6,197 |
| 254 | 4.80 | MEGA MAN #10 | $2.99 | ARC | 6,163 |
| 255 | 4.78 | FUTURAMA COMICS #59 | $2.99 | BON | 6,136 |
| 256 | 4.75 | QUEEN SONJA #27 | $3.99 | DE | 6,097 |
| 257 | 4.69 | PROPHET #22 | $2.99 | IMA | 6,030 |
| 258 | 4.68 | FERALS #2 (MR) | $3.99 | AVA | 6,008 |
| 259 | 4.67 | SCALPED #56 (MR) | $2.99 | DC | 5,999 |
| 260 | 4.66 | KEVIN KELLER #1 | $2.99 | ARC | 5,991 |
| 261 | 4.66 | SERGIO ARAGONES FUNNIES #7 | $3.50 | BON | 5,983 |
| 262 | 4.65 | SUPERNATURAL #5 | $2.99 | DC | 5,969 < |