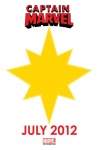 Marvel teased the return of Captain Marvel last month with the release of Alan Davis' cover image for Secret Avengers #27, which features the good Captain front and center and indicates that he will have a role to play in the AvX event. But a new teaser image was released today featuring the traditional Captain Marvel logo and lettering, and it certainly gives the impression that the character might be in line to get his own series starting in July.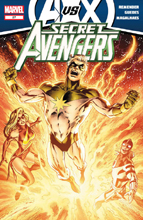 But as usual The House of Ideas is playing this one very close to the vest. The teaser image for
Captain Marvel's
return in July was accompanied only by a reference to Editor Tom Brevoort's "Talk to the Hat" panel at WonderCon, this coming Saturday at 4 pm. Stay tuned for more details with our WonderCon coverage.