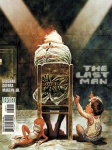 New Line has been trying to make a movie out of Brian K. Vaughan and Pia Guerra's award-winning Vertigo science fiction comic, Y: The Last Man for years. Director D.J. Caruso almost had the project greenlit several years ago with a script by Carl Ellsworth, but the studio couldn't decide how to film the lengthy 60-issue saga that has been collected in a ten-volume series of graphic novels. Now New Line is taking the project back to square one with a new adaptation by the writing team of Matthew Federman and Stephen Scaia.
According to
The Hollywood Reporter
, Federman and Scaia are in final negotiations to adapt
Y: The Last Man
for the big screen. No word yet on how many films it will take to tell the entire saga. How to divvy up the action and structure the multiple films that it will take to tell this complex story is the problem that stymied previous efforts. If New Line has a handle on a solution, it's not talking.
Actually a cable TV series might be a better option for a lengthy saga like Y: The Last Man. Has anyone at New Line seen what has been going on with The Walking Dead? Perhaps they can get someone at sister company HBO interested—and maybe they are all ready thinking along those lines since Federman and Scaia's primary experience has been on TV series like Charlie's Angels, Human Target, Warehouse 13, and Jericho.