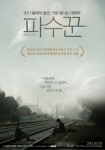 Anime powerhouse Right Stuf has announced 5 Points Pictures, a new division that will focus on the distribution of eclectic live-action movies, starting this summer with a number of popular Korean movies including Bleak Night (2011), Finding Mr. Destiny (2010), Moss (2010), Penny Pinchers (2011), Punch (2011), The Suicide Forecast (2011), and Tazza: The High Rollers (2006).
Right Stuf's 5 Points Pictures will handle the home video distribution of these films thanks to an agreement with CJ Entertainment. In recent years the Korean cinema has earned enormous respect worldwide with hits like Oldboy, which is currently being remade here in the U.S. by Spike Lee.
Thanks to 5 Points Pictures American audiences are about to be exposed to a far greater range of Korean movies, many of which are in popular genres that will appeal to those who enjoy imaginative, hard-hitting, live-action cinema.