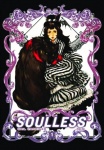 Soulless Vol. 1 TP (Manga)
Publisher: Yen Press
Release Date: March 2012
Price: $12.99
Creator(s): Written by Gail Carriger; Art and Adaptation by REM
Format: 230 pgs.; B&W; Trade Paperback
ISBN: 978-0-3161-8201-0
Age Rating: OT/Older Teen (for Language, Nudity, Sexual Situations, Violence)
ICv2 Rating: 4 Stars out of 5
Miss Alexia Tarabotti has several crosses to bear-- she's smart, she's a spinster, and she's soulless. Alexia's preternatural abilities-- and a very ill-timed desire for treacle tart-- land her smack in the middle of a mystery involving new vampires unbound by a formal hive. And to make matters worse, the annoying, albeit handsome, Lord Maccon keeps sticking his werewolf nose in the way.
REM's adaptation should serve to attract new fans to Carriger's paranormal-romance-with-hints-of-steampunk novel series, while hopefully satisfying the already fanatic. Her lush art owes a lot to shojo manga, but it never allows frivolities to overshadow the strength of the story. Even when REM uses chibi-style distortion, it is only for humorous moments, so the result works to keep the right tone to match Carriger's dry wit. The Victorian setting is very believable and highly detailed when necessary, though never overshadowing the characters. Alexia, Lord Maccon, and the others are all distinct individuals, and even background characters are distinguishable from one another. The older teen rating is earned partially by some language and some violence, but mostly by the innuendos (and later nudity) of Alexia and Lord Maccon's on-again/off-again dalliances with one another. This is a series for adult readers who love paranormal and historical romances and like those romances to have a feisty, buxom, sassy heroine. Fans new and old will quickly clamor for the next volume of this fun new series.
--
Snow Wildsmith: Writer and former teen librarian and ALA/YALSA committee member.