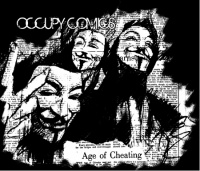 With "the aim of disrupting the comics market," comic writer Steve Niles, Epitaph Records CEO Brett Gurewitz and Halo-8 president/Godkiller writer Matt Pizzolo have formed new publisher Black Mask Studios. Niles (30 Days of Night) will serve as the creative director of the new company, Pizzolo will act as president, and "Gurewitz's Epitaph Records will power the operation."
The company plans to use a hybrid digital/phisical business model based on the ones Halo-8 used for the
Occupy Comics project
and the
Godkiller 2: Tomorrow's Ashes
miniseries.
Occupy Comics
(see "
Alan Moore Will 'Occupy Comics'
") was set up as a Kickstarter project. Godkiller 2: Tomorrow's Ashes was sold three ways: as three digital issues for $6.66 each; a trade paperback for $16.66, or a bundle of both for $19.99. The digital copies were sold as PDFs or CBR files. Most people bought the $20 combo bundle, according to Pizzolo.
The company also plans to adopt strategies used by record companies to leverage devalued/pirated content "into larger audiences for branded merchandise, events, special editions, and transmedia worldbuilding."
The founders list the announcement of DC's
Watchmen
prequel, which is being produced without the support of original series writer Alan Moore (see "
DC Announces 'Watchmen' Prequel
"), and Marvel's pursuit of Gary Friedrich (see "
'Ghost Rider' Creator Owes Marvel $17 Grand
") as the backdrop for the new company, which the founders "sought to craft… in a way that protects creators' rights."
As far as the content aspirations of the new company, the founders seek "…to open a new space outside the entrenched market where we can cultivate more subversive, experimental, and literary comics to reach broader audiences."
The first project for the new company will be Occupy Comics, which it will distribute without a fee.