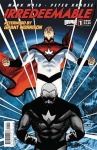 BOOM! Studios has announced that it has appointed Diamond Comic Distributors as its exclusive distributor to comic book specialty shops worldwide. BOOM!'s founder and CEO Ross Richie sees benefits for retailers in the move: "Retailers will see a better discount on our products as we will move from Diamond's F Discount (45% off) to an E Discount (50% off); better fill rates on comic book reorders; and our entire graphic novel backlist inventory will now be available for immediate ordering."
Richie founded BOOM! Studios in 2005. In addition to a lineup of superhero and genre comics headlined by Mark Waid's Irredeemable, BOOM! also publishes an all-ages line of comics and graphic novels (KaBoom!) that includes Charles Schulz' Peanuts, Jim Davis' Garfield, and Roger Langridge's Snarked, as well as a lit-comic focused imprint, Boom-Town.
BOOM! titles will also join Diamond's upcoming initiative to sell digital comics through brick-and-mortar comic stores.