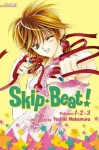 Skip Beat! (3-in-1 Edition) Vol. 1 TP (Manga)
Publisher: VIZ Media
Release Date: March 2012
Price: $14.99
Creator: Yoshiki Nakamura
Format: 568-pgs.; B&W; Trade Paperback
ISBN: 978-1-4215-4226-3
Age Rating: T/Teen
ICv2 Ratings: 3 Stars out of 5
Kyoko gave up everything to follow her childhood friend Sho to Tokyo so he could pursue his dreams of stardom. But now that he's becoming an idol, he's left Kyoko behind. She's not going to take that lying down, however. Instead, Kyoko decides to get revenge by launching her own show biz career and insuring that her star will outshine Sho's.
Nakamura's story is part-girl power, part-comedy, but what makes it interesting is how she takes a somewhat unlikeable heroine and makes readers root for her. In the beginning Kyoko is a doormat, the kind of quiet, hardworking girl that is easy to overlook. But after Sho rips out her heart, she quickly becomes driven by revenge. That could easily make her annoying and bitter, but Nakamura plays up the comedy with anthropomorized revenge spirits which emit from Kyoko and ensnare those around her. To keep readers pulling for her, Nakamura also shows how Kyoko is still, at heart, that good, dedicated girl, and shows that there are handsome young men who find that quality appealing, even when it is hidden. Nakamura's art is chaotic, full of humorous asides, crazed shojo sparkles, voiceovers from multiple characters, and over-the-top outfits. References to Japanese cultural details may occasionally trip up readers newer to manga, but there are translation notes located at what was the end of each of the stand-alone volumes. Libraries who want to add a popular shojo series, but are worried about the cost of acquiring one that is 27 volumes and counting, will appreciate being able to do so at a reduced, omnibus price.
--
Snow Wildsmith: Writer and former teen librarian and ALA/YALSA committee member.