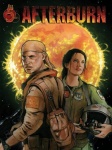 Norwegian director Tommy Wirkola is now set to rewrite and then direct an adaptation of Afterburn, a graphic novel by Scott Chitwood and Paul Ens published by the Calgary-based Red 5 Comics. Gerard Butler is attached to star in the science fiction saga set in a future where solar flares have ravaged half the globe (the old world). Teams of treasure hunters scour the melted ruins "Quarantine Zone" searching for some of the world's greatest art treasures that might have survived.
Afterburn
was originally optioned over four years ago (see "
Tobey Maguire Hot for 'Afterburn'
"). Antoine Fuqua was attached to direct from a screenplay by Matt Johnson (see "
'Afterburn' Gets Writer
"), and Gerard Butler was set to star back in 2010, but the project stalled. Now, according to
The Hollywood Reporter
Butler still wants to star in the film (schedule permitting), and Wirkola is doing a rewrite on Johnson's screenplay.