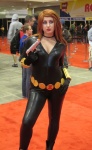 ICv2 went to the third year of C2E2, ReedPop's show at McCormick Place in Chicago, last weekend, and found it considerably larger than a year ago with generally good spirits throughout. Although final numbers have not yet been released, both exhibit space and pre-registrations by attendees were up by mid-double digit percentages, so big growth was expected in attendance from the roughly 34,000 that attended last year (see "
C2E2 Drew 34K
").
The show was in the North Hall of the facility, which does not have the great windows of the venue the first year (see "
C2E2 Launches with 27,500
"), but does have a lot of space in one hall, a refreshing change after the confines of the Javits Center in New York, where ReedPop's New York Comic Con is held. Here are our photos, taken on Friday, of the first day at the show.
Black Widow was hanging around at the registration area as we found our way into the show.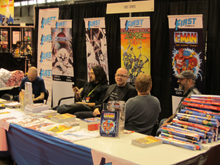 In a "what year is this" moment, the first booth we saw as we walked into the exhibit hall (in Chicago, no less) was First Comics.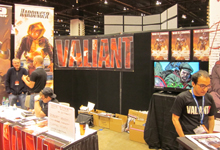 Also near the front of the hall and showcasing a company from a distant (although different) era, was the Valiant booth.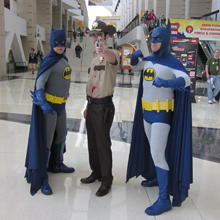 The Walking Dead's
Rick Grimes bracketed by two vintage Batmen.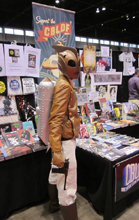 Rocketeer stopped by the CBLDF booth.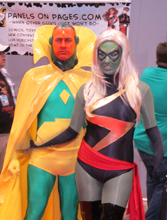 Things were not as they seemed with Skrulls in the house. Here The Vision hangs with the Skrull version of Ms. Marvel…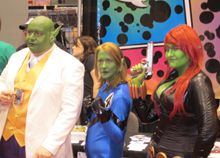 …along with Skrull versions of Kingpin, Invisible Girl, and Black Widow.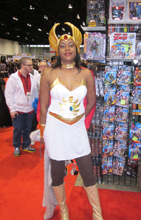 We caught She-Ra, Princess of Power passing a toy dealer.
A sedate (by Comic-Con standards, at least) poster distribution at the Marvel booth.
A Stormtrooper with benefits was promoting geek burlesque performance art (including Fellowship of the Boobs) at the Gorilla Tango Theater in Chicago.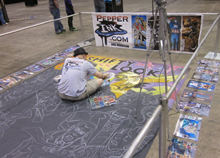 The ShiftyLook logo chalk drawing took shape, surrounded by the retro arcade games on which the ShiftyLook Webcomics are based.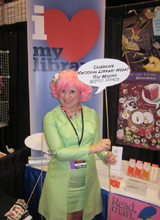 Effie Trinket from
Hunger Games
held forth at the ALA booth, here "talking" about National Library Week.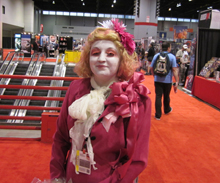 And here, a freelance Effie cruised the aisles.
Click here
for Part 2. Or
click here
to go to Part 3.