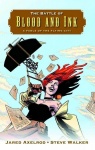 The Battle of Blood and Ink: A Fable of the Flying City HC

Publisher: Tor Books
Release Date: May 2012
Price: $25.99
Creator(s): Jared Axelrod (writing); Steve Walker (art)
Format: 144 pgs.; B&W; Hardcover
ISBN: 9-780-7653-3130-4
Age Rating: n/a
ICv2 Rating: 2 Stars out of 5
Ashe and her friend Tolban live on the edge, committed to publishing their one-page newspaper
The Lurker's Guyde to Amperstam
, which exposes the misdeeds of the iron-fisted Provost who rules the flying city of Amperstam. But when Ashe stumbles upon the secret to Amperstam's flight, the news may be too dangerous to print.
Axelrod and Walker's graphic novel is a sequel to the podcast series
Fables of the Flying City,
the first two volumes of which are available at
http://www.fablesoftheflyingcity.com
. Readers don't really need to know the series to understand most of the graphic novel's plot, but those aren't already fans may find themselves wishing for a bit of background on the world the characters inhabit.
Overall the steampunk setting and political intrigue are entertaining enough, but the story never really reaches greatness. The story does not try hard enough to distinguish itself from other girl-overcoming-her-past storylines and comes across a bit too much like Phil and Kadja Foglio's critically lauded
Girl Genius
series. Walker (who handled illustration duties for
Sons of Liberty
by Alexander and Joseph Lagos) does a good job with the multi-racial characters, but those characters sway between overacting and looking blank and lost. The thick black elements of the art and lack of shading make it hard at times to tell what is happening, a problem during action sequences. Those faults, combined with the high price of the hardcover volume, make this a very optional purchase for libraries that desperately need more steampunk graphic novels.
--
Snow Wildsmith: Writer and former teen librarian and ALA/YALSA committee member.