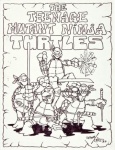 From out of the sewers to the auction block--the original drawing of The Teenage Mutant Ninja Turtles that was created in Dover, New Hampshire in November of 1983 will be auctioned off this week by Heritage Auctions. Online bidding has been going on this week with bids topping $50,000. The auction will conclude with a live auction in Dallas on Friday. Proceeds of the auction will go to the Hero Initiative, which aids comic book creators who have fallen on hard times.
USA Today
quotes original
TMNT
creator Kevin Eastman as saying "It's time to let go of a lot of really cool, awesome Turtle memories," which could mean that more original
TMNT
art may be heading to the auction block.
From their humble origins in a 3000-copy black-and-white first issue comic, the pizza-loving Teenage Mutant Ninja Turtles rode a tidal wave of cartoons and comics to achieve fame as the world's most popular reptilian quartet.