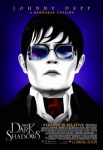 Tim Burton's richly comic take on the vintage soap opera Dark Shadows took in a modest $550,000 at 1,600 locations at midnight shows on Thursday. Analysts are predicting a domestic total of between $35 and $40 million for Dark Shadows, which cost $100 million to produce, stars Johnny Depp, and should appeal to female viewers more than The Avengers, which is expected to take the weekend box office crown again with most analysts predicting a Mother's Day weekend haul in North America of between $75 and $100 million for the superhero team-up movie.
The situation overseas is more difficult to predict. Thanks to the Pirates of the Caribbean franchise, Johnny Depp is huge overseas, and Dark Shadows will open in every major overseas territory except Japan. The Avengers has already been shown in many territories for several weeks and Dark Shadows will likely win a lot of head-to-head confrontations, but will it be enough?
With its record-setting $207 million domestic opening, The Avengers is bound to suffer a major decline this weekend, the question is how big? The film has the kind of CinemaScore (A+) that usually translates into some longevity at the box office, and its record-setting bow makes it a sort of "event" movie that people want to see just so they can talk about it with their friends. Though it did skew male (60%), it attracted both young and old viewers, which means it still has a big potential audience left. Still anything from a 50% to a 60% drop would certainly qualify as a strong "hold" for a film that did so much business during its opening weekend.