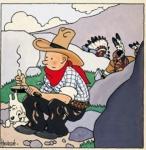 The original artwork for the cover to Herge's 1932 Tintin in America has fetched a record price of $1.6 million at an auction in Paris held over the weekend. The same India ink and gouache drawing set the previous record for comic book art when it was sold in 2008 of $943,000. Nearly doubling in value in just four years is a clear indication that the market for Herge's work is surging. Only five of these Herge covers are known with two of them in private collections. Also it certainly didn't hurt that Steven Spielberg and Peter Jackson produced an Adventures of Tintin film that earned $375 million worldwide (the popularity of Marvel Studios movies like The Avengers has definitely increased the values of key Silver Age titles associated with character in the film). The buyer of the Tintin cover remains anonymous.
The highest price paid for a piece of American comic art is $448,125, which was the price fetched by a splash page from Frank Miller's
The Dark Knight Returns
. Of course complete issues of rare American comics have gone for more. The near-mint copy of
Action
#1 was sold last November for a record $2.16 million (see "
Action Comics #1 Brings $2.16 Million
").
According to
The Daily Beast
, other
Tintin
items at the sale also fetched high prices. A sketch page for the 1968 graphic novel
Flight 714
brought in six figures, while a copy of
Explorers on the Moon
signed by Herge, and American astronauts Neil Armstron, Buzz Aldrin, and Michael Collins went for $42,000.