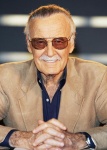 Stan Lee, whose post-Marvel career has been marked by a succession of lawsuits, has settled a legal dispute with his partners in POW! Entertainment, the company that Lee formed in the wake of the disastrous dissolution of Stan Lee Media. The settlement marks the end of a nasty suit and countersuit dispute between Lee and Valerie Barth, a media consultant who helped Stan get his star on the Hollywood Walk of Fame, and Ron Sandman, the director of Ultra Vision and Arturian Entertainment, the "shell" company that was used to expedite POW! Entertainment's becoming a publicly-traded company via a reverse merger (see "
Stan Lee Ensnared in a Legal Dispute
").
The terms of the settlement of the Pow! Entertainment suits will remain confidential at the request of the parties involved. According to
The Hollywood Reporter
, the suits, which were filed in an obscure Northern California court, are in the process of being withdrawn.
Lee remains embroiled in a long-running lawsuit growing out of the disastrous demise of Stan Lee Media that began in 2007. Though the original stockholders of the Stan Lee Media were mostly long gone by then, the current holders of SLM stock have been suing Lee for the past five years claiming that he signed over the rights to the characters he created to Marvel after he had already promised them to SLM. Stan Lee Media recently lost another round in the long-running dispute (see "
Stan Lee Media Loses
"), but the court has not yet ruled on whether Stan Lee Media could relitigate the argument that Lee had illegally diverted the rights to his characters to Marvel.