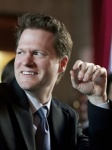 ComiXology CEO David Steinberger revealed at an investment conference in New York last week that the company expects that around $70 million in gross merchandise value worth of digital comics will be sold on its platform in 2012. That compares to around $19 million in gross merchandise value sold on its platform in 2011, Steinberger said at the same conference, hosted by the Software & Information Industry Association. That would make comiXology's 2012's sales more than 3-1/2 times its sales in 2011, following an over-all tripling of the digital comics market in 2011 (see "
Digital Comics Triple in 2011
").
Steinberger also revealed at the conference that over 77 million comics (including free titles) have been downloaded from its platform since launch; that number was 50 million comics only a few months ago (see "
ComiXology Tops 50 Million Comics
").
Steinberger's revelations about the volume of comics sold through comiXology's platform also gives an indication of the company's market share; it accounted for around 75% of the digital comics sold in 2011, based on ICv2's estimate of around $25 million in total digital comic sales last year. Other platforms include iVerse, Viz, Kodansha, Graphicly, Panelfly, e-books, and PSP (which was still selling comics during 2011).
All of this comes in the context of rapidly increasing print comic sales this year (see "
Comic Sales Soar in May
""). There are varying opinions as to whether those print sales increases are because of, in spite of, or unrelated to the digital comics sales increases. Here at ICv2, we've been arguing for years that digital comics can drive print sales (see "
Why Digital Comics Are Different
"), and we believe the facts are bearing this out.
Disclosure: ICv2 has a business relationship with comiXology as a representative for its Retailer Tools; ICv2 CEO Milton Griepp also serves on the board of comiXology.