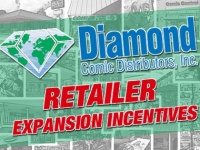 Comic-Con News: Diamond Comic Distributors announced today that it is working with eight comic market suppliers to offer $6250 in free backlist merchandise to qualified retailers who purchase Diamond's Point-of-Sale System. Diamond's system is based on Microsoft's Retail Management System and adds Diamond's ComicSuite software to allow retailers to interact seamlessly with Diamond.
The eight companies offering free backlist merchandise to retailers joining the program include BOOM! Studios, Dark Horse Comics, IDW Publishing, Image Comics, DC Comics, Diamond Select Toys, and Marvel. Retailers who purchase the full hardware and software package can get the full $6250 backlist package, while those who buy just the software package are eligible for $3250 in backlist merchandise.
Diamond's Executive Director of Business Development Chris Powell compared the program to Carol Kalish's groundbreaking efforts at Marvel that helped fledgling comic retailers acquire cash registers in the 1980s. Powell notes that with the proliferation of product lines modern comic book retailers now manage extremely complex businesses and need the kind of precise sales and inventory information that a POS system can provide.