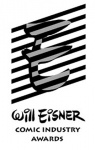 Comic-Con News: The winners of the 24th Annual Eisner Awards were announced last night at the Eisner Awards event at the San Diego Comic-Con. Mark Waid's Daredevil took home three awards for Marvel (including "Best Single Issue," "Best Continuing Series," and "Best Writer" for Waid) as did Archaia Entertainment's Jim Henson's Tale of Sand, which won "Best New Graphic Album," "Best Publication Design," and "Best Penciller/Inker" for Ramon K. Perez.
Other big winners include Darwyn Cooke, whose various Parker publications for IDW won "Best Short Story," and "Best Graphic Album-Reprint," and Craig Thompson who received the coveted "Best Writer/Artist" award for his ambitious and masterful Habibi.
Dark Horse Comics earned five awards including "Best Anthology" for Dark Horse Presents and "Best Reality-Based Work" for Green River Killer: A True Detective Story. Marvel Comics entries won four including 3 for Daredevil and "Best Limited Series" for Criminal: The Last of the Innocent by Ed Brubaker and Sean Phillips.
Here's a
link
to all the deserving titles that were nominated for the 24th annual Eisner Awards, and here's a complete list of all the winners:
Best Short Story
"The Seventh," by Darwyn Cooke, in
Richard Stark's Parker: The Martini Edition
(IDW)
Best Single Issue (or One-Shot)
Daredevil
#7, by Mark Waid, Paolo Rivera, and Joe Rivera (Marvel)
Best Continuing Series
Daredevil
, by Mark Waid, Marcos Martin, Paolo Rivera, and Joe Rivera (Marvel)
Best Limited Series
Criminal: The Last of the Innocent
, by Ed Brubaker and Sean Phillips (Marvel/Icon)
Best Publication for Early Readers (up to age 7)
Dragon Puncher Island
, by James Kochalka (Top Shelf)
Best Publication for Kids (ages 8 - 12)
Snarked
, by Roger Langridge (kaboom!)
Best Publication for Young Adults (Ages 12 - 17)
Anya's Ghost
, by Vera Brosgol (First Second)
Best Anthology
Dark Horse Presents
, edited by Mike Richardson (Dark Horse)
Best Humor Publication
Milk & Cheese: Dairy Products Gone Bad
, by Evan Dorkin (Dark Horse Books)
Best Digital Comic
Battlepug
, by Mike Norton, www.battlepug.com
Best Reality-Based Work
Green River Killer: A True Detective Story
, by Jeff Jensen and Jonathan Case (Dark Horse Books)
Best Graphic Album-- New
Jim Henson's Tale of Sand
, adapted by Raman K. Parez (Archaia)
Best Graphic Album--Reprint
Richard Stark's Parker: The Martini Edition
, by Darwyn Cooke (IDW)
Best Archival Collection/Project--Comic Strips
Walt Disney's Mickey Mouse Vols. 1-2
, by Floyd Gottfredson, edited by David Gerstein and Gary Groth (Fantagraphics)
Best Archival Collection/Project--Comic Books
Walt Simonson's The Mighty Thor Artist's Edition
(IDW)
Best U.S. Edition of International Material
The Manara Library, Vol. 1: Indian Summer and Other Stories
, by Milo Manara with Hugo Pratt (Dark Horse Books)
Best U.S. Edition of International Material--Asia
Onward Towards Our Noble Deaths
, by Shigeru Mizuki (Drawn & Quarterly)
Best Writer
Mark Waid,
Irredeemable
,
Incorruptible
(BOOM!);
Daredevil
(Marvel)
Best Writer/Artist
Craig Thompson,
Habibi
(Pantheon)
Best Penciller/Inker or Penciller/Inker Team
Ramón K. Pérez,
Jim Henson's Tale of Sand
(Archaia)
Best Cover Artist
Francesco Francavilla,
Black Panther
(Marvel);
Lone Ranger
,
Lone Ranger/Zorro
,
Dark Shadows
,
Warlord of Mars
(Dynamite);
Archie Meets Kiss
(Archie)
Best Coloring
Laura Allred,
iZombie
(Vertigo/DC);
Madman All-New Giant-Size Super-Ginchy Special
(Image)
Best Lettering
Stan Sakai,
Usagi Yojimbo
(Dark Horse)
Best Comics-Related Journalism
The Comics Reporter
, produced by Tom Spurgeon, www.comicsreporter.com
Best Educational/Academic Work (tie)
Cartooning: Philosophy & Practice
, by Ivan Brunetti (Yale University Press)
Hand of Fire: The Comics Art of Jack Kirby
, by Charles Hatfield (University Press of Mississippi)
Best Comics-Related Book
MetaMaus
, by Art Spiegelman (Pantheon)
Best Publication Design
Jim Henson's Tale of Sand
, designed by Eric Skillman (Archaia)
Hall of Fame
Judges' Choices: Rudolf Dirks, Harry Lucey
Bill Blackbeard, Richard Corben, Katsuhiro Otomo, Gilbert Shelton
Russ Manning Promising Newcomer Award:
Tyler Crook
Bob Clampett Humanitarian Award:
Morrie Turner
Bill Finger Excellence in Comic Book Writing Award:
Frank Doyle, Steve Skeates
Will Eisner Spirit of Comics Retailer Award:
Akira Comics, Madrid, Spain--Jesus Marugan Escobar and The Dragon, Guelph, ON, Canada--Jennifer Haines