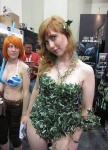 The story of Comic-Con 2012 in pictures begins with preview night, a look at some of the promotions outside the convention, and the first full day Thursday. See also
Part 1
,
Part 3
, and
Part 4
.
One of many Poison Ivy's at the show, as a friend looks on.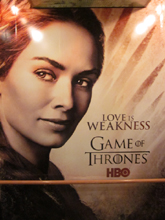 An elevator at the Omni promotes
Game of Thrones
.
Two years ago, Image comic
Elephantman
was one of the few properties using the pedicabs as a way to promote (see "
Comic-Con Spreads Out
"). Now major companies (in this case, Square Enix) are buying up fleets.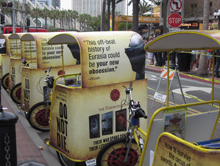 This group promotes Amazon imprint 47North.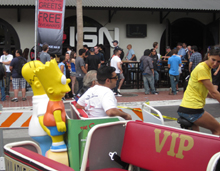 Here a
Simpsons
-themed pedicab wheels past the IGN headquarters at the Hard Rock.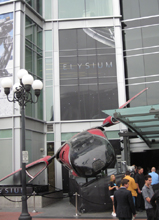 An outdoor installation promotion
Elysium
, a 2013 science fiction film starring Matt Damon and Jody Foster.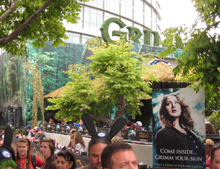 A restaurant take-over promoting NBC's
Grimm
.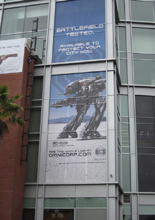 The remake of
Robocop
(see "
House to Play 'Robocop' Villain
") hasn't even started production yet, but marketing outside Comic-Con has begun.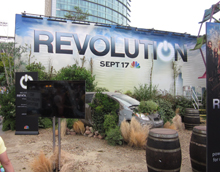 This outdoor installation promotes NBC's new series
Revolution
.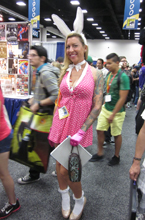 Ears and ink ornament this Thursday con-goer.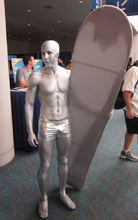 There's plenty of surfing in San Diego, but the Silver Surfer was at the Con.
Click here for
Part 3
.