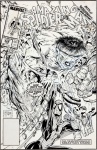 Todd McFarlane's cover art for
Amazing Spider-Man
#328, which depicts Spider-Man battling the Hulk, has sold at auction for $657,250, Heritage Auctions announced Thursday. That topped the price for McFarlane's art for
Spider-Man
#1, which sold for $358,500 in the same auction. The art was part of the Shamus Collection of Modern Masterworks, assembled by Martin Shamus, Wizard publisher Gareb and Steven Shamus' father (see "
Huge Heritage Auctions Coming
").
The price for the cover art for Amazing Spider-Man #328 sets a new record for a single piece of American comic art, topping the price for a
Dark Knight
splash page by Frank Miller and Klaus Janson set last year ("
Miller Page Goes for $448,125
").
A CGC 9.8 copy of
X-Men
#1 from the same auction sold for $492,937.50, according to
Hollywood Reporter
; and a 9.6 copy of
Avengers
#1 went for $274,850. Those were both record prices for those books.