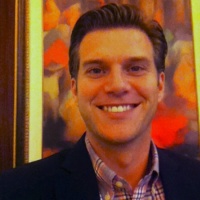 We caught up with Archaia Entertainment CEO PJ Bickett at Comic-Con for a brief chat on the company's release flow and upcoming initiatives.
Where is Archaia in the middle of 2012, and what are you looking forward to between now and the end of the year?
As of right now for 2012 we've really focused on some key titles and in building those out as real brands. In the past we've taken more of a throwing it out there and hoping for the best [approach] and now we're taking a more strategic, targeted and strategic approach. We're seeing a lot of great efforts as a result of it.
Last night we just came away with three Eisner's and again, that was a really targeted marketing approach. We'll look to continue to do that with every title we put out in the future.
How many releases are you doing this year and how does that compare to last year?
This year we're doing two more than last year for a total of 48, and last year was 46. Next year we'll probably cut back on the title list a little bit. Again, it's really focusing more on the individual titles and creating the individual brands.
When you were talking about the number of releases you were talking about books or comics?
That was actually in books.
As you release new titles are you keeping the older titles in print, or are you letting some of them go out of print?
As you know the lifeblood of any publisher is its backlist, so we will definitely continue to grow and build that. We do have some big and exciting news coming out at the end of this month that will be about taking advantage of our backlist and growing the front list.
How many titles do you have in print right now?
Right now we have 75 titles, believe or not, in print. And these again are the collected editions, so it's pretty significant.
Where are you with digital comics? You have always been ahead of the pack in terms of adopting digital, what are you doing this year?
So we came out with a Rust app earlier, which was one of the first IP portal apps, where you had very light social game play, some videos, some character backgrounds, and of course the digital version of the book.
We are actually partnering up with two different vendors right now on creating completely new concepts. One of the products is out here already. They're doing some test comp work to get reaction and people are very involved with it. It's not going to be so much a panel by panel vs. a slide by slide approach. It's much different than what you're even seeing from DC'sdigital efforts and it's going to really be an interaction.
What releases are you most excited about between now and the end of the year?
We're very excited about our staple, Mouse Guard: Black Axe coming out later this year. We also have Dark Crystal Vol. 2, and Rust Vol. 2 coming out; it's the year of the sequels for us at the tail end. Of the 22 titles we have left to publish this year, it's going to be pretty significant.