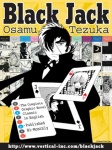 The Toronto-based Entertainment One, which produces the
Rookie Blue
series for ABC and distributes AMC's
The Walking Dead
, has acquired the worldwide rights to create a television series based on Osamu Tezuka's manga series
Black Jack
, which has sold over 50 million copies in Japan and is published here in North America by Vertical (see "
Vertical Has 'Black Jack' Manga
").
Black Jack, which draws on Tezuka's medical training in its portrayal of a renegade doctor, is the "Father of Manga's" third most famous creation (after Astro Boy and Kimba the White Lion. The popular character has spawned an OVA, two animated TV series, and two feature films.
Deadline
reports that Michael Rosenberg, Jen Chambers, and Adam Blumberg will produce the TV adaptation of
Black Jack
for Entertainment One along with Taka Ichise and Doug Davison, both of whom worked on Hollywood adaptations of the Japanese horror films
Ring
and
The Grudge
.