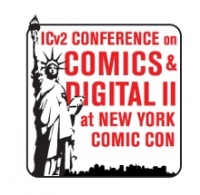 An ICv2 Release. The ICv2 Conference on Comics and Digital II will be held in association with New York Comic Con on Wednesday afternoon, October 10th at the Jacob Javits Convention Center in New York City. Plan to join us!
The Conference
The pace of change in the world of comics and graphic novels is accelerating, with digital, changes at retail, changes in the audience, and changes in the very nature of the medium all moving faster than ever before. The ICv2 Conference will present both a snapshot of the medium as it exists today as well as a look ahead with the best minds in the business. Join this incredible gathering on the eve of New York Comic Con!
Time and Place
The ICv2 Conference on Comics and Digital II will take place at the Jacob Javits Convention Center, from 1:00 to 5:00 p.m. on Wednesday afternoon, October 10th.
Who Should Attend
Comics and graphic novel publishers
Digital executives
Writers and artists
Retailers and wholesalers
Librarians and educators
Producers, agents, and managers
Licensees, licensors, and marketers
Conference Sessions
Sessions at the ICv2 Conference on Comics and Digital II (speakers will be added over the next few weeks, check back frequently):
The ICv2 White Paper
This ICv2 White Paper will present a comprehensive look at the comics and graphic novel market in print and digital for 2011 and 2012, with an analysis of long and short term trends driving the market.
Presented by Milton Griepp, ICv2.
Kids—the Future of Everything!
The fastest growing segment of graphic novel publishing is titles for kids, tweens, and teens. Are you doing everything you can to take advantage of this huge change in the audience for comics? Learn about the kids graphic novel scene from the leaders of publishing, retail, and libraries.
Mark Banaszak, Managing Editor, Diamond BookShelf; Editor, Kidscomics.com
Carol Burrell, Editorial Director, Graphic Universe (Lerner)
Jimmy Gownley, Creator, Amerlia Rules
Ed Masessa, Senior Manager Product Development, Scholastic Book Fairs
Francoise Mouly, Publisher and Editorial Director, Toon Books
Jim Salicrup, Editor in Chief, Papercutz
Moderated by Scott Robins, librarian, co-author of A Parent's Guide to the Best Kids Comics.
Comics—The New Medium
As technology impacts the world of comics, we are seeing the biggest changes in format since the invention of the graphic novel. What will the comics art form look like in five years, and how does the essence of sequential storytelling using words and pictures change in the process? Creators and entrepreneurs discuss the question of "what is a comic" and how the revolution in technology is transforming the medium.
Dave Gibbons, Artist, Writer, Advisory Board Member--Madefire
Brian Haberlin, Co-founder, Anomaly Productions
Hank Kanalz--SVP Digital, DC Entertainment
John Roberts, Co-founder, comiXology
Mark Waid, Writer, Founder, Thrillbent
Moderated by Heidi MacDonald, comic editor and commentator from The Beat
Comics—The Transforming Business Model
The business of comics is changing faster than we've ever seen before—digital is exploding, crowdfunding is providing a new source of financing, the retail and library channels are changing rapidly, and media exploitation of comics is now an important part of the business. How does this all fit together into the new business of comics? We bring together the thought leaders of the comics world to talk about their visions of the future for the business of comics.
Dan Buckley, Publisher, President--Print, Animation, Digital, Marvel
Marc Goldberg, CTO, comiXology
Peter Levin, CEO, Nerdist Industries, and Co-President, Digital Strategy of Legendary Ent.
Alvin Lu, Executive Vice President Publishing, Viz Media
Michael Murphey, CEO, iVerse
Moderated by Rob Salkowitz, writer of
Comic-Con and the Business of Pop Culture


Fireside Chat: Chris Hardwick and Fred Seibert.
Take a deep dive into the transformation of media with two dynamic individuals who have been on the bleeding edge of cross-platform production, transmedia properties, social media and publishing. Television and Web pioneer Hardwick, the founder and Chief Creative Officer of Nerdist Industries and host of
The Talking Dead
, chats with Frederator Studios founder Fred Seibert, the producer of TV animated shows including
Fairly Oddparents, Fanboy & Chum Chum
, and
Adventure Time
; and Web shows like the upcoming
Superf*ckers
, based on the James Kochalka comics.
Chris Hardwick, Founder and Chief Creative Officer, Nerdist Industries
Fred Seibert, Founder and CEO, Frederator Studios
Cocktail Reception--Sponsored by Samsung and Nerdist Industries

Speakers, panelists, attendees, and press can meet, mingle,and discuss the events of the day.
For more information on the Conference Speakers,
click here
.
Register Today!

For only $99 to $199, depending on your category, you can take part in this important gathering of the industry, held in association with New York Comic Con.
Creator, Retailer, Librarian, or Educators pay only $99.
Publisher, Producer, Agent, Manager, Marketer, Licensing, Distributor, all others pay only $199.
Click here to register
.
Press
The ICv2 Comics, Media, and Digital Conference will honor New York Comic Con press credentials. Please e-mail
Mgriepp@ICv2.com
to let us know you're coming, or with any questions.
For More Information
Click the link below to sign up for Conference updates via e-mail.
To contact us to inquire about speaking or sponsorship opportunities, e-mail:
Mgriepp@ICv2.com
.
ICv2 is the #1 industry source on the business of geek culture, including comics and graphic novels, manga and anime, movie/TV products, and hobby games daily on its Website, ICv2.com, and in its magazine, Internal Correspondence. For the people on the front lines of the geek culture business, staying ahead of the trends isn't something that can be left to chance-it's a basic necessity for being successful. That's why ICv2 is the #1 source of news and information for the buyers, gatekeepers, and tastemakers on the front lines. ICv2 is where trend-watching has become a science.

Conference Co-Sponsor: comiXology
Founded in 2007 with the mission of bringing comics to people everywhere, comiXology--in just five short years--has revolutionized the comic book and graphic novel world. From creating the industry leading platform for digital comics to tools and services for brick and mortar retailers, comiXology has led the charge in exposing new audiences to the rich history and culture of comic books. With the development of the Comics by comiXology digital comics platform--available across iPhone, iPad, Android, Kindle Fire and the Web--comiXology provides the easiest way worldwide for people to enjoy comics at just the click of a button!

Conference Co-Sponsor: Nerdist Industries
Nerdist Industries is a multi-platform creator of genre and popular culture content. Their online presence includes a website at Nerdist.com, a premium YouTube channel (youtube.com/nerdist), the Nerdist News daily e-newsletters, 1.7 million Twitter fans and a podcast network including the flagship Nerdist Podcast which is also produced as a TV show on BBC America. Nerdist hosts live events such as The Nerdist Podcast Live! and Course of the Force, an annual Comic-Con lightsaber relay in partnership with Lucasfilm LTD. In July 2012, Nerdist Industries was acquired by Legendary Entertainment, the company behind such genre films as Inception, Watchmen, 300, Man of Steel and The Dark Knight Trilogy.

Conference Co-Sponsor: Samsung



Conference Sponsor: Publisher's Weekly
Publishers Weekly
is the leading publication serving all segments involved in the creation, production, marketing and sale of the written word in book, audio, video and electronic formats. It is the prime source of comprehensive news and provides unique industry data including an annotated bestseller list, hot deals and retail news.
PW
is recognized as the leading publication for international and U.S. book publishing industry.
PW's
Website,
PublishersWeekly.com
is packed with great information from the hottest industry news to book reviews to the popular
e-newsletters
, which includes PW ComicsWorld.
New York Comic Con
is the East Coast's biggest and most exciting popular culture convention. Our show floor plays host to the latest and greatest in comics, graphic novels, anime, manga, video games, toys, movies, and television. Our panels and autograph sessions give fans a chance to interact with their favorite creators. Our screening rooms feature sneak peeks at films and television shows months before they hit either big or small screens. And with dedicated professional hours, New York Comic Con is a market place, bringing together the major players in the entertainment industry. New York Comic Con is the second largest pop culture convention in America with over 105,000 attendees in 2011, and the only one that takes place in the comic book, publishing, media, and licensing capital of the world--Gotham City.

Contributing Sponsor: Valiant Entertainment
Valiant Entertainment owns and controls one of the most successful comic book universes in the history of the medium. Newly relaunched in 2012, Valiant's current releases include some of the best-selling independent titles in all of comics, including
X-O Manowar
,
Harbinger
,
Bloodshot
, and
Archer & Armstrong.
For more information, visit
ValiantUniverse.com
.