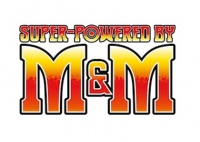 Gen Con News—At Gen Con Green Ronin revealed plans for the Mutants & Masterminds: Supernatural Handbook (MSRP $27.95), a full color, 144-page trade paperback that is the perfect compendium of heroic horror for the Mutants & Masterminds Superhero Role-playing Game.
The Supernatural Handbook contains detailed information on character creation, horror-themed series, adventure design, and a complete system for constructing supernatural menaces to battle. The volume also contains hero and villain archetypes like the Case-Burdened Adventurer, Noble Monster, Dark Emissary, and Inhuman Juggernaut.
In addition this volume introduces players to a very important secret organization ARCADE (American Research Center for the Arcane Defense of Earth) that does battle against dark supernatural forces every night. The
Mutants and Masterminds: Supernatural Handbook
will be the third major superhero RPG sourcebook released by Green Ronin in 2012 (see "
New Superhero Sourcebooks
").