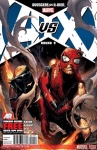 Marvel's
Avengers vs. X-Men
crossover event is finishing strong with issues #9 and #10 of the 12 issue limited series taking the top two spots on the August Top 300 Comics chart as calculated by ICv2.
Avengers Vs. X-Men
#9 was down fewer than 100 copies from issue #8 in July. Aside from the special anniversary $5.99
Amazing Spider-Man
#692, three
AvX
titles were the only other Marvel books that made the Top 15 titles in August. Add in the four other
AVX
tie-in titles that made the Top 25 (
Avengers
#29,
Uncanny X-Men
#17,
New Avengers
#29, and
Wolverine and the X-Men
#15) and you realize that the event is responsible for 7 of the 9 Marvel titles in the Top 25. DC placed 16 titles in the Top 25, and this plus DC's strong showing on the graphic novel side, is why DC took the marketshare crown from Marvel for the second month in a row (see "
Bull Market in Comics Continues in August
").
While the sales of both comics and graphic novels forged ahead in August at the same stream-rolling pace of previous months in 2012, there are some negative signs in the numbers. There were just four titles over 100K in August down from 5 in July and 8 in June. Only two continuing titles in the Top 25, Marvel's 50th anniversary Amazing Spider-Man #692 and DC's Aquaman #12 posted increases in circulation in August versus 19 titles that suffered declines. True the declines were generally small, and the attrition in their numbers were more than made up by four new #1's including two Before Watchmen titles that made the Top Ten and two DC annuals that made the Top 20. Scott Snyder's Batman increased its lead over Justice League as the #1 DC comics title, though it should be noted that Justice League #12 contained the famous Superman and Wonder Woman "kiss" and it has gone back to press, so it may well end up selling more copies than Batman #12..
Outside the realm of the Big Two, Image Comics' The Walking Dead #101 dropped precipitously from the record-setting heights of the special anniversary issue #100, but #101 settled at 51,172 well above where it was holding before the excitement leading up to the release of issue #100. Another hot Image title, Saga, by Bryan K. Vaughan and Fiona Staples actually ticked up a bit in August as it posted a circulation of 40,584 versus 40,556 in July.
Valiant Comics' relaunch continued in August with Archer & Armstrong #1, which debuted at 23,464. It was down from Bloodshot #1, which debuted in July with around 29,000 copies, and Bloodshot's debut was down from Harbinger #1's total of over 32,000 in June.
On the graphic novel side Geoff John's
Batman: Earth One
, which sold an impressive 32,000+ copies in July (see "
Batman: Earth One Nearly 33K
"), managed the rare feat of topping Diamond's graphic novel charts for two months in a row. Its August total of 7,320 is nothing to write home about, but it is still nearly 2,000 more copies than the next best title, which happens to be the first volume of Robert Kirkman's
The Walking Dead
. So how do graphic novels manage to post a 15% year-over-year increase in sales in August when the top new book only sells just over 5,000 copies? The answer lies in the nature of the first two books on the list, which are backlist titles, not new releases. In addition to those chart-topping backlist books, Scott Snyder's
Batman: Court of Owls
, which was released in May, finished at #5 in August with sales of 4,441 copies, and there are five other
Batman
backlist titles of much older vintage (including Frank Miller's 1980s classic
The Dark Knight Returns
, which topped bookstore graphic novel sales in August) in the August graphic novel Top 25. These extremely strong
Batman
backlist sales have to be attributed in large part to the influence of Christopher Nolan's
The Dark Knight Rises.
Add in the continuing strong backlist sales of
The Walking Dead
and it is easier to see how the graphic novel market could do so well in spite of the lack of a potent new release hit.
Kodansha's Sailor Moon Vol.6 was the top-selling manga title at #16, followed by Viz Media's Yu-Gi-Oh! GX Vol.9, which ended up at #21. Mention should be made of Marvel's original graphic novel, Hulk Season One, which came in at #6, the full color edition of Oni Press' Scott Pilgrim at #7, and Dark Horse's Star Wars: The Clone Wars: Sith Hunters at #8, and BPRD: Hell on Earth Vol. 3: Russia at #12. Boom! Studios also made the Top 25 with Volume 10 of Mark Waid's excellent superhero saga Irredeemable.
Here are ICv2's estimates of the direct market North American sales of the "Top 25" comics sold through Diamond Comic Distributors in August.
174,336 Avengers vs. X-Men #9
169,629 Avengers vs. X-Men #10
126,249 Batman #12
120,796 Justice League #12
91,071 Amazing Spider-Man #692
85,473 Before Watchman: Rorschach #1
78,380 AVX VS. #5
77,577 Before Watchmen: Dr. Manhattan #1
77,187 Green Lantern #12
75,998 Detective Comics #12
71,203 Action Comics #12
67,648 Green Lantern Annual #1
67,393 Earth 2 #4
67,084 Batman: The Dark Knight #12
66,720 Batman Incorporated #3
63,393 Batman & Robin #12
62,571 Detective Comics Annual #1
61,653 Avengers #29
61,210 Aquaman #12
61,095 Uncanny X-Men #17
60,767 Amazing Spider-Man #691
59,661 Before Watchmen: Nite Owl #2
59,441 New Avengers #29
58,441 Wolverine and X-Men #15
58,014
Before Watchmen: Ozymandias
#2