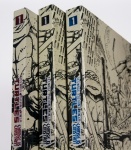 IDW has announced that it is launching IDW Limited, a new division that will create ultra-high-end, collectible editions of IDW books. IDW Limited titles will feature original sketches, creator signatures, and special packaging in hand-numbered, limited editions not available elsewhere. They will be offered in multiple tiers, with varying degrees of collectability. All IDW LImited products will be sold direct to consumer, with no trade distribution.
The varying degrees of collectability will include such elements as sketches, complete illustrations, or multi-character illustrations; single or multiple signatures; and packaging.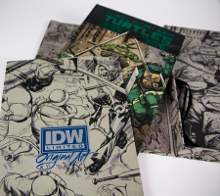 Up first will be a four-issue collection of
Teenage Mutant Ninja Turtles, Vol. 1, Change Is Constant
, with hand signatures from
TMNT
creator Kevin Eastman, series artist Dan Duncan, and series writer Tom Waltz, as well as original hand-sketched art from Duncan packaged with each book in a specially hand constructed, deluxe case. The three tiers of the 192-page 9" x 12" hardcover edition will be Red, at $125 each; Black, at $250 each; and Blue, at $350 each.
Other products planned from IDW Limited this year include
Transformers, G.I. Joe, Alan Robert's Crawl To Me
, and menton3's
Monocyte.
IDW CEO TEd Adams spoke to ICv2 exclusively about this new program, see "
Exclusive--Ted Adams Interview
."