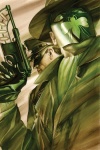 New York Comic Con Announcement
: Mark Waid, who just won multiple Eisner Awards for his work on Marvel's
Daredevil
(see "
2012 Harvey Award Winners
"), will be writing a new
Green Hornet
series for Dynamite Entertainment. This new
Green Hornet
saga, which will chronicle events from the late stages of the crimefighter's career, will be Waid's first work for Dynamite, which is planning on launching the new
Green Hornet
comic book series in 2013.
Waid is clearly pleased to be working on the Green Hornet: "With this Green Hornet project, which I've been percolating on for more than ten years, I'm able to meld my love of the Hornet's legacy with a little bit of Citizen Kane and a lot of Lawrence of Arabia to tell a story never before told--the dark years of the Hornet's later career and the one mistake he makes that nearly costs him everything."
Artist Paulo Rivera, who won Eisner and Harvey Awards for his work with Waid on Daredevil, will be providing covers for the series. While doing research on the property Rivera learned that the original Green Hornet character designs had been done by H.J. Ward, Rivera's "favorite painter of all time," so he became increasingly excited about creating the Green Hornet covers.
Look for more details on Dynamite's new Green Hornet comic book series to be released in the near future.