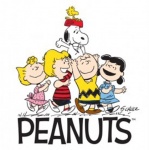 Twentieth Century Fox and Blue Sky Studios (the creators of the highly successful Ice Age movies) have reached an agreement with the estate of Peanuts comic strip creator Charles M. Schulz that will permit Fox and Blue Sky to produce a computer-generated, feature-length Peanuts film that has already been slated to debut on November 25th, 2015. That particular date was chosen to commemorate the 65th anniversary of the debut of the Peanuts comic strip and 50th anniversary of the classic TV special A Charlie Brown Christmas.
Steve Martino, who co-directed Fox's Horton Hears a Who! and Ice Age: Continental Drift, has been tapped to helm the first Blue Sky/Fox Peanuts feature film. Charles Schulz's son Craig and Craig's son Bryan are writing the screenplay along with Cornelius Uliano.
According to
Deadline
, Fox has been negotiating for the rights to this prime property for over two years. A
Peanuts
feature film from Blue Sky should be very good news indeed, not just for Fox and Blue Sky, who get a popular, gilt-edged property to exploit, but also for Fantagraphics, which reprints the classic Charles M. Schulz
Peanuts
comics, and for Boom Studios, which has published a line of comics and graphic novels featuring the beloved
Peanuts
characters (see "
'Peanuts' Goes Kaboom
").