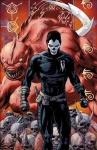 NYCC News:
Valiant Entertainment is teaming with
Mummy
producer Sean Daniel to bring the Valiant comic book
Shadowman
to the big screen with a script by Joseph Michael Straczynski. The
Shadowman
character was created by Jim Shooter, Steve Engelhart, David Lapham, and Bob Layton back in 1992. The revived Valiant Entertainment is launching a new
Shadowman
series on November 7th (see "
Valiant Announces 'Shadowman'
").
According to
Deadline
, it will be New Orleans jazz musician Jack Boniface as Shadowman in the movie. Deadline quotes JMS on the appeal of the Shadowman character: "Shadowman is a character who lives in a unique world that mixes the modern world with that which is most ancient within us. The New Orleans vibe and history, and the struggle to find a balance with the personality within him, makes this a perfect dramatic vehicle."
Deadline also includes a very interesting quote from Valiant Entertainment CEO Jason Kothan, who makes no bones about the fact that the company is determine to establish a franchise: "Shadowman is the first in a large slate of film projects that we are developing and funding internally at Valiant. Between Sean's evidenced track record and Joe's creative genius, we are very enthused about building a potential franchise here."