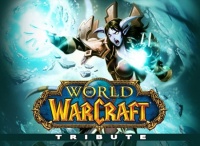 NYCC News: At the New York Comic Con, UDON Entertainment announced an agreement with Blizzard Entertainment to produce the next installment in UDON's "Tribute" series of deluxe art books. The licensed World of Warcraft Tribute book, will debut at San Diego next year, and will contain a massive collection of designs from hundreds of professional and hobby artists who will have the opportunity to display their artistic chops while paying homage to their favorite characters, settings, and moments from Blizzard's popular massively multi-player online role-playing game (MMORPG) The World of Warcraft.
Beginning on November 1st, artists from around the world will be invited to submit their World of Warcraft-inspired art work to UDON for inclusion in the volume. UDON's previous "Tribute" books look like compendia of a veritable "Who's Who" of international, comic, game, concept, and fan artists. UDON is looking for imaginative takes on the WoW universe be they anime or western comic style drawings, cartoons, pixel-based art, sculptures--whatever medium the artist chooses to use.
The World of Warcraft Tribute Book will premiere as a special limited edition hardcover at the San Diego Comic Con in 2013.