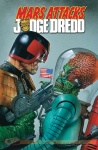 NYCC News: Starting in the first week of January Topps' terrifying Martian conquerors will be using their destroyer rays to blast their way into IDW's extensive and diverse line of comics in a series of weekly one-shots. The comics will all feature standard covers by artist Ray Dillon that mimic the painted look of the original Topps Mars Attacks card art, and the comics will even have simulated card text on their back covers. In addition IDW has commissioned a wide range of very interesting variant covers such as the retailer incentive covers (for Mars Attacks Popeye) of Mars Attacks Opus by Berkeley Breathed and Mars Attacks Miss Fury by J. Bone.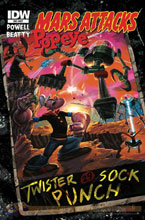 On January 2nd the invasion begins as the murderous Martians take on the battlin' bluecoat Popeye the Sailor Man in
Mars Attacks Popeye
by Martin Powell, Terry Beatty, and Tom Ziuko. Do you think that those big-brained Martians have ever seen forearms like those on everybody's favorite seagoing slugger?
Then on January 9th, the Martians dial back their time machine to the 1970s and take on those masters of "Kabuki Rock" Kiss in Mars Attacks Kiss, a twisted retelling of the first Kiss comic. Retailer incentive covers include a brilliant Mars Attacks Judge Dredd by Greg Staples (see above) and Mars Attacks the Starslammers by Walt Simonson.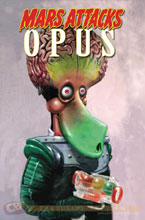 Then the Martians attempt to eliminate Earth's supernatural defenses on January 16th with the release of
Mars Attacks the Real Ghostbusters
by Erik Burnham and Jose Holder. Retailer incentive covers include
Mars Attacks Madman
by Mike and Laura Alred and
Mars Attacks Chew
by Rob Guillory.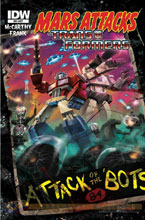 The next skirmish in this continuing war begins on January 23rd when
Mars Attacks the Transformers
by Shane McCarthy and Matt Frank (with a standard cover by Ray Dillon like the other
Mars Attacks
books). Retailer incentive covers include
Mars Attacks Strangers in Paradise
by Terry Moore and
Mars Attacks Spike
by Franco Urru.