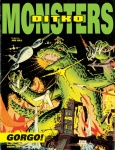 IDW Publishing and Yoe Books have announced the first volume in a series of books collecting illustrator Steve Ditko's classic monster adaptations from the early 1960s. A 224 page hardcover retailing for $34.99, Ditko Monsters: Gorgo is set for release on January 30, 2013.
Originally published by Charlton Comics, Gorgo The Monster from the Sea was an MGM film released in 1961 from a British production company. From 1961 through 1965, Charlton published the comic series and Steve Ditko designed interiors as well as covers for several issues penned by author Joe Gill.
No stranger to Ditko's career, IDW Publishing has teamed with Yoe Books on two prior Ditko projects, including The Art of Ditko (2009) and The Creativity of Ditko (2012). Gorgo will be followed by Ditko Monsters: Konga. Similar to Gorgo, Konga is also a Charlton adaptation of a British film from 1961. While Ditko did the interiors of Konga, he shared cover duties with Dick Giordano.
--Nathan Wilson