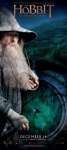 Warner Bros. has released three new poster images from Peter Jackson's
The Hobbit: An Unexpected Journey
, which is due to open on December 14th. The trio of new posters focus on some of the principal players in the film adaptation of the Tolkien classic with individual designs featuring Ian McKellen as Gandalf and Andy Serkis as Gollum. The third poster features Richard Armitage as Thorin Oakenshield and Martin Freeman as Bilbo Baggins. These poster designs first appeared on
Collider.com
.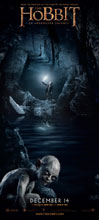 An Unexpected Journey
, the first film in Jackson's
Hobbit
trilogy is the most highly anticipated fantasy film of 2012. With the debut of the film now just a little over a month away, the pace of promotion has picked up with the release of several TV spots including one that focuses on Andy Serkis as the Gollum (see "
Gollum, Action
").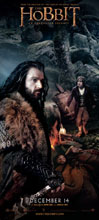 Bilbo Baggins, who appears as a tiny figure in the new Gollum poster, is much more visible in the third new poster design, which he shares with Thorin Oakenshield. Martin Freeman as Bilbo is featured in a second TV spot in which he confronts a gaggle of trolls (see "
Second 'Hobbit' TV Spot
").