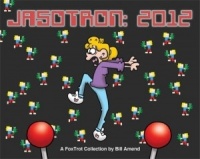 Jasotron 2012: A FoxTrot Collection TP
Publisher: Andrews McMeel Publishing
Release Date: November 6, 2012
Price: $16.99
Creator: Bill Amend
Format: 144 pgs., Full-Color; Trade Paperback
ISBN: 978-1-4494-2306-3
ICv2 Ratings: 2 out of 5 stars
In Jasotron: 2012, the 27th collection of the comic strip FoxTrot we get to follow the suburban Fox family through almost an entire calendar year. It's pretty much business as usual in the Fox household as parents Roger and Andy watch their kids Peter, Paige and Jason as they target pop culture trends and attempt to survive childhood, adolescence and each other.
For those unfamiliar with the long-running strip, self-deluded cluelessness is the principal characteristic of the entire Fox clan. Andy insists on serving her family disgusting "health" food they loathe and along with being a standard issue teenage eating machine Peter is incapable of distinguishing his sports superstardom dreams with the bench warming reality. Paige believes she's always just on the cusp of obtaining high school popularity and every inch the super intelligent nerd stereotype, the youngest Jason is convinced he's going to invent the next big thing. But he's also still enough of a "normal" comic strip kid to regularly unleash an assortment of cruel and pointless pranks which don't so much backfire as explode on the launch pad.
It's not that I find this to be a bad strip so much as a utterly predictable one, full of annoying characters and endless variations on the same stale jokes and situations, it's not that it doesn't have its moments, it's just that they're too few and too far between. I know FoxTrot has its fans but I'm afraid I'm just not one of them.

--Steve Bennett: Writer and retail services consultant.