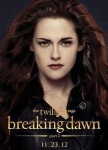 As expected The Twilight Saga: Breaking Dawn, Part 2 easily topped the weekend box office with an estimated $141.3 million, the second best weekend in franchise history and the eighth best 3-day weekend bow of all time. Aided by a strong hold by the new James Bond film Skyfall and a better than expected performance from Steven Spielberg's Lincoln, the total of the top 12 films was up 10% from the same frame last year when Twilight: Breaking Dawn, Part 1 debuted with $138,122, 261.
Even though it trailed Part I slightly after its Friday opening ($71.2 million vs. $71.6 million for the original), Breaking Dawn, Part 2 eclipsed its predecessor by the end of the weekend, though was not able to match the stellar start of The Twilight Saga: New Moon, the second installment in the franchise, which debuted with $142,839,137 in November of 2009. In spite of a typically lukewarm reaction from the critics (just 51% positive on Rotten Tomatoes), fans gave the film an "A" CinemaScore, with those under 25 upping the grade to a stellar "A+." Given the reaction of the franchise's dedicated fans to the final movie in the series, a North American total at least equal to Part 1's $281.3 million appears to be assured.
Weekend Box Office (Studio Estimates): November 16-18, 2012

Film

Weekend Gross

Screens

Avg./

Screen

Total Gross

Wk#

1

The Twilight Saga: Breaking Dawn Part 2

$141,300,000

4,070

$34,717

$141,300,000

1

2

Skyfall

$41,500,000

3,505

$11,840

$161,337,000

2

3

Lincoln

$21,000,000

1,775

$11,831

$22,419,000

2

4

Wreck-It Ralph

$18,312,000

3,622

$5,056

$121,479,000

3

5

Flight

$8,615,000

2,612

$3,298

$61,336,000

3

6

Argo

$4,070,000

2,210

$1,842

$92,022,000

6

7

Taken 2

$2,100,000

2,063

$1,018

$134,624,000

7

8

Pitch Perfect

$1,260,000

1,122

$1,123

$62,000,000

8

9

Here Comes the Boom

$1,200,000

1,350

$889

$41,019,000

6

10

Cloud Atlas

$900,000

920

$978

$24,894,000

4
Breaking Dawn, Part 2 set a new franchise record for the percentage of males attending the opening weekend (cue the sound of thousands of whips cracking), but it was just 21% versus the far larger distaff portion of the audience (79%). Breaking Dawn, Part 2, which cost $120 million to produce, also earned $199.6 million overseas for a first weekend worldwide total of $340.9 million. With good word of mouth and the Thanksgiving weekend coming up, Breaking Dawn, Part 2 has a chance to become the top domestic box office performer in the franchise, but each of the last three Twilight films has earned almost the exactly the same amount here in North America. The opening of Breaking Dawn Part 2 certainly doesn't provide any indication that the series has either expanded or lost any of its audience, though it is also abundantly clear that the Twilight Saga does have a devoted following that will almost certainly drive its worldwide total north of $700 million.
The new James Bond film Skyfall dropped just 53% (a solid number for a big action film) as it added $41.5 million bringing its two-week domestic total to $161.3 million. It has been out for several weeks overseas and the film's worldwide total of $669.2 million has set a new franchise record, topping the old mark of $599.2 million set by Casino Royale. It looks like Skyfall, by the time its theatrical run is done, will earn at least a third more than Casino Royale.
The other big news this weekend in addition to the stellar debut of the Twilight finale was the expansion to 1775 theaters of Steven Spielberg's Lincoln, which captivated older audiences and earned $21 million thanks to a solid $11, 831 per theater average that was nearly equal to that of Skyfall. Lincolnand its star Daniel Day-Lewis are clearly Oscar frontrunners, which should translate into an extended run. Opening weekend audiences for the historical drama were not exactly spring chickens with 64% of the crowd over 50, but this is actually a good sign in some ways. The older audience is hard to motivate and generally takes its time going to see a film, which means that Lincoln could end up being the exact opposite of a front-loaded film like Breaking Dawn, Part 2. Lincolnearned a solid "A" CinemaScore, which also points to an extended run.
Disney's Wreck-It Ralph, which should has had the family audience pretty much to itself (though Rise of the Guardians opens next week), dropped 44.5% as it brought its three weekend-total to $121.5 million.
Two serious dramas that have been inching their way towards success, Flight, which stars Denzel Washington, and Ben Affleck's Iran hostage rescue saga Argo followed with $8.6 million and $4 million respectively.
Fox's highly successful Taken 2 finished in seventh with $2.1 million, but with the big releases at the top of the chart sucking all the oxygen out of the room, no other film earned more than a paltry $1.2 million.
Be sure to check back here next week to see if the front-loaded Twilight Saga: Breaking Dawn, Part 2 will be able to defend its box office crown against the challenges leveled by Rise of the Guardians, Red Dawn, and The Life of Pi.