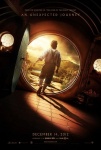 People for the Ethical Treatment of Animals (PETA) has charged that "abuse and neglect" caused the death of animals during the filming of The Hobbit: An Unexpected Journey. In a post on its Website titled "The Hobbit: Unexpected Cruelty," PETA said that a whistleblower had revealed that five horses, a pony, and several goats, sheep, and chickens were allegedly maimed and killed, not while on set, but where the animals were kept during filming. The injuries included falls into sinkholes or from embankments; chickens were killed when mauled by dogs or trampled by other animals, according to the allegations.
A spokesperson for Jackson told
AP
that dangerous conditions had been improved after the production company became aware of them. The American Humane Association supervised conditions during the filming, during which no animal injuries occurred. The Association was asked to investigate conditions where the animals were housed by the production company after problems became apparent, and its recommendations for improvements were implemented.
PETA is not calling for a boycott, but is planning protests at the film's premieres in New Zealand, the U.S., and the U.K. "In a movie that features CGI dragons, ogres, and hobbits, CGI animals would have fit in perfectly," PETA said. "Jackson could have made The Hobbit without using a single animal—and he should have." Jackson released a statement late Monday in response. "Over 55% of all shots using animals in The Hobbit are in fact computer generated; this includes horses, ponies, rabbits, hedgehogs, birds, deer, elk, mice, wild boars, and wolves."