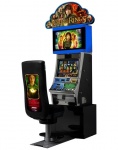 The Tolkien estate and publisher Harper Collins have filed an $80 million suit against Warners, New Line, and Saul Zaentz Co., which holds the rights to
Lord of the Rings
and
The Hobbit,
alleging that the companies are licensing products beyond the scope of the original agreement with Saul Zaentz Co., according to
Hollywood Reporter
.
Central to the suit are slot machines:
Lord of the Rings: Fellowship of the Ring: Online Slot Games
are available now, and traditional slot machines are also planned. The estate doesn't like it, alleging that the games are not only beyond the scope of the license, which it says cover only tangible objects, but are also harming the Tolkien legacy and alienating fans.
There's a history of litigation between the parties; the Tolkien estate sued New LIne over profits from the three
Lord of the Rings
films, settling for a rumored $100 million (see "
'LOTR' Lawsuit Settled"
).