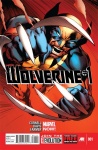 In March, everyone's favorite clawed curmudgeon gets the Marvel NOW! treatment with
Wolverine #1
, written by Paul Cornell (
Saucer Country
) with art by Alan Davis (
The Uncanny X-Men
). Marvel teased this ongoing series recently (see "
Marvel Teases 'Snikt'
"), but the House of Ideas has now revealed the title and creative team.
Cornell's return to Marvel finds Wolverine facing a new adversary he cannot see. This forces Logan to battle to the best of his feral ability while making sure that innocents remain unharmed. Wolverine, given more of a leadership role in the Marvel Universe, will also be depicted as a "regular guy" who likes to hang out with his friends in New York City.
As with various other Marvel NOW! titles, Wolverine #1 will feature exclusive augmented reality content (behind-the-scenes info, cover recaps, and the like) through the Marvel AR app. In addition, each issue of Wolverine will include a free digital copy. Marvel also promises retailer incentives.
--Brett Weiss