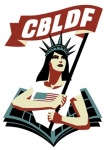 Neil Gaiman, Art Spiegelman, Alison Bechdel, Mike Allred, Sergio Aragones, David Petersen, Greg Rucka, and Matt Wagner have been added to the amazing list of creators that will personalize their graphic novels for donors to the Comic Book Legal Defense Fund as part of its Spirit of Giving campaign. They join many others, including Alan Moore (see "
Alan Moore Personalized Graphic Novels
").
The CBLDF's Spirit of Giving campaign is also supported by the Will & Ann Eisner Family Foundation, which will make a donation for every order placed on the CBLDF Website, each new membership, and for each renewed membership by December 31st.
The donations and memberships support the CBLDF's work to protect the First Amendment rights of the comics medium. Donations to the Comic Book Legal Defense Fund, and the exciting premiums that go with them, can be found at
CBLDF.org
.