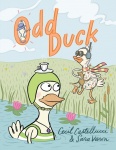 First Second Books has announced four juvenile titles for Spring 2013. Artist Sara Varnon (Robot Dreams, Bake Sale, Chicken and Cat, and Chicken and Cat Clean Up) teams with writer Cecil Castellucci (Grandma's Gloves, Boy Proof, The Plain Janes, and The Year of the Beasts) for Odd Duck in May. Targeting ages six to ten years old, Odd Duck is a story of friendship centering on Theodora and Chad. A 96-page, full color hardcover, Odd Duck will retail for 15.99 and get marketing support including author appearances, a national media campaign, and school and library conference support.
Also in May, First Second plans to release Dave Roman's
Astronaut Academy: Reentry
, a sequel to his
Astronaut Academy: Zero Gravity
(see "
Siegel on the 2011 List
"). Known for
Agnes Quill: An Anthology of Mystery
and
Teen Boat
, Roman is also the co-author of
X-Men: Misfits
and
The Last Airbender: Zuko's Story
, both
New York Times
bestselling graphic novels. Returning to the world of Hakata Soy,
Reentry
finds the student entering his spring semester only to discover a monster robbing students of their hearts. The 192-page paperback is aimed at children and teens aged 10 to 14 and will retail for $9.99.
May is a strong month for First Second as Faith Erin Hicks and Prudence Shen debut Nothing Can Possibly Go Wrong. No stranger to First Second, Hicks (Zombies Calling and The War at Ellsmere) illustrated the publisher's 2010 Brain Camp and both wrote and drew 2012's Friends With Boys. The unlikely friendship of the athletic Charlie and the neurotic, science-minded Nate forms the core of Nothing Can Possibly Go Wrong. Yet, when Nate threatens the cheerleading team and school funding for student programs is limited, the only answer is a robot death match between the warring parties. At 288 pages, the paperback Nothing Can Possibly Go Wrong is geared for ages 12 to 17, and will retail for $16.99.
In June, First Second will release the nonfiction
Primates
:
The Fearless Science of Jane Goodall, Dian Fossey, and Biruté Galdikas,
byJim Ottaviani and Maris Wicks. Ottaviani, author of First Second's
New York Times
bestselling
Feynman
(see "
First Second's Bestsellers
"), teams with artist Wicks, who has been published by AdHouse Books, as well as Image Comics and DC Comics. Dramatizing the lives of primatologists Goodall, Fossey, and Galdikas,
Primates
chronicles the careers of these three pioneering women scientists. Aimed at ages 12 to 17, the 144 page hardcover will cost $19.99. It will be supported by a national media campaign, author appearances, and school and library promotions.
--Nathan Wilson