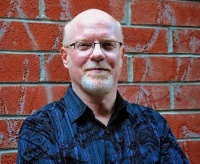 We talked to VIZ Media Director of Publishing Sales and Marketing Kevin Hamric about the company's recent hits and its plans for 2013, including its important launches for the year.


How are VIZ manga sales looking for the second half of 2012?
We're holding our own. It's been a little more challenging, as you have reported (see "ICv2's Comic Market Size analysis for 2012"). There's been a significant rise in the American comics and graphic novels primarily because of a couple of great movies, The New 52, and DC getting back into Barnes & Noble. That has put the squeeze on the manga part of the category. But we're pleased with our results and hitting our numbers so we'll go from there and hopefully things will swing back our way in the near future.

Anything that gets consumers into the stores or on the Websites to buy in the category is good for everybody.

In July we talked about some of the newer titles that were emerging as hits (see "Viz's Top New Manga"). Is there anything different from what we discussed that is doing particularly well for you?
Neon Genesis Evangelion was a huge hit right out of the gate. We're very pleased with that especially because it was the first world-wide coordinated release of the same book--same day-same time.

The other huge, huge hit we've had just in the past couple of weeks is the gift edition box set of Nausicaa--two hardcovers in a box set selling at $60 U.S. retail. We sold out completely of the first print run in the first week. We have to go back and build more box sets. It's just been a tremendous hit. The reviews online, the e-mails and the social media coming from the fans--we couldn't expect anything more. It's absolutely wonderful to look at.

What was the print run?
We built 7,000.

In July you said you were running about 300 volumes a year (see "The Manga Market"), what are you looking at for 2013?
Same thing. Our fiscal year is going to be just around 300 new volumes.

Is the mix changing at all in terms of how many per imprint?
No. Everything is primarily staying status quo between all the different parts of our business, between shojo and shonen, the Kids imprint, the science fiction imprint--pretty much stable.

We talked before about the good response from comic stores to the kids titles. What are the VIZ Kids titles that are doing best?
Pokemon obviously is our #1 property and still going very strong. Matter of fact we will be doing much more Pokemon in 2013, announcing those titles any day now with a whole new release schedule in the new year.

The big property (we expected this) is Winx Club. It shows on Nickelodeon; it's from Rainbow in Italy. It's a girls property about fairies and the sales have been above expectations.

And we've got Voltron Force with four volumes out now and #5 coming shortly and #6 after that. That's probably our lead boy property right now.

On the other end of the spectrum, seems like you've got a continuing program on Redakai but the toy program is over on that--are there plans to continue that?
We're talking with the licensor. As you've seen in the news, the toys are over and the show is not going into a new season, but we're reviewing the sales on that to see if we want to continue past what the original contract was for. We're talking to the licensors right now.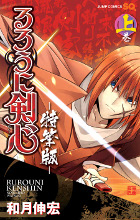 Looking to 2013, what are some of the media tie-ins for next year? What about Rurouni Kenshin Restoration--is this a new package?
This is all new. It's a continuation after the original series, a two-volume series, a condensed retelling. The big news is that in volume one, it's going to include Chapter 0 (almost like a prequel) that was in Shonen Jump Alpha.

The live action movie from Warners (see "Warner Japan Filming 'Rurouni Kenshin''") is going to have a North America debut in Los Angeles in December, but we don't know yet if it's going to go anywhere else after Los Angeles or if there's a distributor involved at this point.

Is the L.A. show going to be subbed or dubbed?
I'm not sure on that. I think it's dubbed, but I'm not positive.

You said it's a condensed retelling of the story, so the original creator went back to his original series but retold it in a shorter version?
Yes, that's exactly what was done, and it's all being done in conjunction with the live action movie.

What are the home video plans?
We're not sure yet. The anime's available, but for the live action we don't have any news on that other than the Los Angeles premiere next month.

The other movie tied to a Viz property is All You Need is Kill (see "'All You Need Is Kill' Shooting Disrupts Traffic"). Are you going to do anything special to tie in to the movie release?
We are, we just haven't announced that yet. We've seen some storyboarding, some computer generations from the movie. It appears that Tom [Cruise] is wrapping up his part of it. I think they're almost done shooting in England.

It's going to be a huge blockbuster event, and for the first thing that VIZ Productions is involved with, you couldn't ask for anything more.

So, you will do a special publishing program and you'll announce it when you get closer?
Yes, exactly.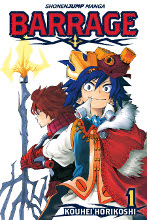 Tell us about Barrage.
This is interesting because we're taking a serialization from Shonen Jump Alpha and bringing it out in manga format. This is going to be one of the first ones we've done that with and something we will continue doing. It's weekly serialization in Shonen Jump Alpha, , near-simultaneous with Japan, and then we race like hell to bring it out as quickly as possible in manga format.

The fan reaction to this has been huge. We've had a great number of downloads from the Shonen Jump Alpha Website for people to read this or through their subscriptions. This is something that we'd like to do more often--serialize something in the magazine and then bring out the collections in print and digital format.

Is this a simultaneous lay-down in terms of the tankoubon in Japan and here?
We're not sure on that yet, but it's probably going to end up being that way. We haven't seen their pub schedule yet.

And this is a teen target audience?
Teen target, yes. It's going to be rated T.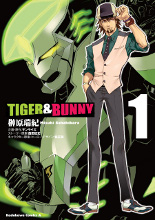 Tell us about Tiger & Bunny.
We are very excited about Tiger & Bunny. In fact after a sales conference last week we have to raise the print run estimates on these. This is based on the anime, which we're running on Hulu and our VIZ Anime networks and also Neon Alley. The comments from fans on Neon Alley have been spectacular, so we've got two volumes coming out right now and will continue every three months for however long we can keep it going. It's action-packed; it's got a huge following in Japan, but at the same time, we're also going to be coming out with an anthology which is a collection of humor shorts from an all-star line-up.

Youka Nitta's Embracing Love is launching in April?
That's the first one, a SuBLime product. That one's going to be a two times per year release. She's [Nitta's] got groupies all around the world. We're very happy to have her--her Websites, her blogs--they just have a huge number of followers.

What do you think the success of 2013 will depend on for Viz?
It's going to depend on the print side. What happens in digital, what happens with the economy is going to be a huge player in that. As long as we keep people going into stores, both the trade bookstores and the comic book stores, I think we'll be OK.

Our digital program is still going strong. I don't see any cannibalization of our print books at all, and as a matter of fact we think it's actually helping the print sales. I think it's all going to hinge on making people aware of what's out there, so we'll be doing a lot of heavy marketing and advertising in 2013.

The other big thing you may have noticed on our schedule is the expansion of our three-in-one edition books. We're taking Dragon Ball and Dragon Ball Z and combining it back into one cohesive set and series and releasing those as three-in-one editions. We had broken up Dragon Ball and Dragon Ball Z based on the anime and the way it broke out that way but now we're combining them back together.

We're going to continue with Naruto, One Piece, Skip Beat! and Hana-Kimi-- in the past we had only done the first nine individual volumes combined into three three-in-ones, but sales of them have been great. They're not killing the sales of the individual volumes at all. The stores have been asking us to continue those because it's an easy way for people to get into a series. It's also a value priced product because it's cheaper than buying the three individual volumes, so we're going to be continuing those.