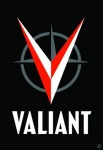 Valiant Entertainment and Rittenhouse Archives have signed a three-year deal for trading cards and collector albums based on Valiant properties, the companies announced today. The first products will launch at San Diego Comic-Con in 2013.
The companies are promising state of the art cards. "[W]e have already identified concepts not yet seen that will be truly exciting for Valiant fans and help bring in a host of new fans," Valiant CEO Jason Kothari said.
Valiant trading cards were produced in its earlier incarnation in the 90s by Upper Deck and Comic Images.