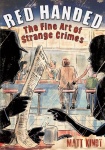 First Second's graphic novels for Spring include work by Matt Kindt, Steven Seagle, Teddy Kristiansen, and Jordan Mechner.
The Harvey and Eisner Award nominated cartoonist Matt Kindt brings his Red Handed: The Fine Art of Strange Crimes to First Second in May. Known for Revolver, 3 Story, Super Spy, 2 Sisters, and Pistolwhip, Kindt is currently producing Mind MGMT for Dark Horse as well as several projects for DC Comics. In Red Handed, a series of random and eccentric crimes is plaguing the city of Red Wheelbarrow and its star detective Gould. Can Gould make the connections between three disparate, recent crimes? The 272-page hardcover will retail for $26.99.
In July, First Second explores the world of quantum physics and the mystery surrounding Albert Einstein's greatest secret, one more dangerous than his involvement with the Manhattan Project. Genius reunites writer Steven T. Seagle and illustrator Teddy H. Kristiansen from their 2004 It's a Bird graphic novel from Vertigo Comics. Seagle, one of the founding members of Man of Action Studios (Ben 10 and Generator Rex), has been nominated several times for Eisner Awards, as well as two GLAAD Media Awards for his American Virgin series from Vertigo. Kristiansen has previously worked with Neil Gaiman on M is For Magic and is an Eisner Award winning artist. In 2012, Seagle assisted Kristiansen with the English-language adaptation and publication of the 2007 French Le Carnet Rouge as The Red Diary from Image Comics. Genius is a 128-page softcover and will cost $17.99.
July also sees First Second explore historical adventure with Jordan Mechner, LeUyen Pham, and Alex Puvilland's Templar. Following the conspiracy between the King of France and the Pope to eradicate the Knights Templar, a group of survivors led by Sir Martin unite to reclaim their captured treasure. Written by Mechner (Solomon's Thieves and Prince of Persia: Before the Sandstorm), drawn by Pham and Puvilland (Prince of Persia and Solomon's Thieves), and colored by Hilary Sycamore (Prince of Persia, Solomon's Thieves, The Shade), Templar is a 480-page hardcover and will retail for $39.99.
--Nathan Wilson