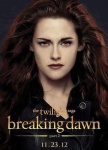 The weekend after Thanksgiving is typically a time for leftovers to rule the box office as surely as they do the dining room so it's no surprise that the Twilight finale held on to the top spot for a third week in a row, though its lead over Skyfall is so small that a definitive determination on the winner won't be available until final numbers are in tomorrow. Currently the same films hold the top six spots that they had last week, and the holdovers powered the box office to a big win as the total of the top 12 films was up 46% over the total amassed by the top dozen a year ago.
The Twilight Saga: Breaking Dawn, Part 2 surpassed the $700 million mark worldwide as it added an estimated $17.4 million to bring its domestic total to $246 million. The 23rd James Bond film Skyfall also reached the $246 million mark domestically where its performance has closely mirrored that of the Twilight finale. On the worldwide state however the Bond film is the big winner with a total of $869 million, which is a franchise record.
Weekend Box Office (Studio Estimates): November 30-December 2, 2012

Film

Weekend Gross

Screens

Avg./

Screen

Total Gross

Wk#

1

The Twilight Saga: Breaking Dawn Part 2

$17,410,000

4,008

$4,344

$254,593,000

3

2

Skyfall

$17,000,000

3,463

$4,909

$246,029,000

4

3

Lincoln

$13,509,000

2,018

$6,694

$83,698,000

4

4

Rise of the Guardians

$13,500,000

3,672

$3,676

$48,947,000

2

5

Life of Pi

$12,000,000

2,928

$4,098

$48,361,000

2

6

Wreck-It Ralph

$7,020,000

3,087

$2,274

$158,257,000

5

7

Killing Them Softly

$7,000,000

2,424

$2,888

$7,000,000

1

8

Red Dawn

$6,550,000

2,781

$2,355

$31,320,000

2

9

Flight

$4,540,000

2,603

$1,744

$81,527,000

5

10

The Collection

$3,409,000

1,403

$2,430

$3,409,000

1
Steven Spielberg's Lincolncontinues to do very well with older moviegoers as it maintained its third place position with an estimated $13.5 million that brought its domestic total to $84 million. It is now clear that Lincoln will easily top the $100 million mark. The older audience that it attracts rarely shows the need to see film right away, which, coupled with continuing Oscar buzz, should keep Lincoln in theaters for quite awhile. Another Oscar contender, Ben Affleck's Argo, which ended up at #13 this week, managed to pass the $100 million mark as well.
Dreamworks' animated Rise of the Guardians dropped just 43.2% as it added $13.5 million to its domestic total. With its holiday theme, Rise of the Guardians also has excellent prospects over the next few weeks, though it will be lucky to match the domestic total of Disney's Wreck-It Ralph, which finished at #6 and continues to split the young movie-going audience with Guardians.
Ang Lee's Life of Pi continues to perform well, dropping just 47% in its second weekend of wide release, but it is doing even better overseas and has now earned over $109 million worldwide.
This week's top newcomer, the Brad Pitt-starring crime drama Killing Them Softly debuted weakly at #7 with an estimated $7 million. The independently-produced film provides an excellent and rather extreme example of the disconnect between movie critics and audiences. Critics loved the movie, which is based on a novel by top flight crime writer George V. Higgins, whose ear for naturalistic dialogue was without peer among late 20th Century American authors. The Rotten Tomatoes rating for Killing Them Softly was a stellar 79% positive, but audiences gave the film an "F" CinemaScore. Over the years only eight films have received an "F" and all of them were horror films with the exception of George Clooney's ill-advised and interminable remake of Solaris and Killing Them Softly. Mainstream success for Killing Them Softly appears impossible, but there is some chance of the film attaining some sort of cult status, though Peter Yates' fine version of Higgins' first novel The Friends of Eddie Coyle has yet to achieve that distinction. Perhaps the world that Higgins, a former Boston area prosecutor, creates may just be too bleak, even for devotees of the crime genre.
The improbable action thriller Red Dawn was one of the few films in the top 10 to drop more than 54%, but it slipped just one spot from sixth to seventh in its second weekend of release.
The only other newcomer in the top 10 was the torture porn horror movie The Collection, which debuted weakly at #10. Horror movie audiences appear to be moving away from grisly fare like The Collection, but a post Thanksgiving release provided no help for this struggling genre film.
Check back next week to see if the Gerard Butler/Jessica Biel romantic comedy Playing For Keeps or any of the other new films slated to debut can make much of an impression on the Top 10.