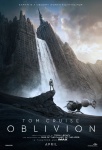 Radical Studios has released the first trailer and a new poster for
Oblivion
, the Tom Cruise science fiction film due out April 2013 (see "
'Oblivion' Wrapped
"). Radical has clarified plans for the film and the yet-to-be-published graphic novel on which it is based.
The film, which in addition to Cruise stars Andrea Riseborough, Olga Kurylenko, Morgan Freeman, Nikolaj Coster-Waldau, and Mlissa Leo, will have an April 12, 2013 IMAX release and an Apri 19th worldwide release.
The film tells the story of a drone repairman stationed on Earth after a devastating war who rescues a beautiful stranger from a downed spacecraft.
The graphic novel, from the concept by Oblivion (and Tron: Legacy) director Joseph Kosinski, will be written by Arvid Nelson, with art by Andree Wallen, and will be released in 2014.