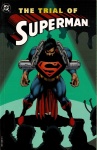 A new ruling was issued and an immediate appeal filed in the litigation over Superman rights between DC Comics and the Siegel and Shuster estates and Marc Toberoff. The ruling was another win for DC, certifying the court's October ruling as final (see "
Superman Wins Another Round in Superman Case
"). The ruling specified that "…the copyright termination notice served by the Estate of Joseph Shuster on November 10, 2003 is deemed invalid and ineffective," and the "rights-encumbering agreements," including movie deals by the heirs side, were "invalid and unenforceable."
The ruling cleared the way for an appeal, which was filed immediately.