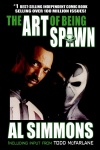 The suit that Todd McFarlane filed against former employees Al and Melanie Simmons over the publication of Al Simmons book,
The Art of Being Spawn
(see "
McFarlane Sues Al Simmons
"), has been settled with no disclosure of terms. The parties simply asked the court to dismiss the case with no possibility of it being refilled.
Based on the facts disclosed, the case would have been a tough slog for McFarlane, but undoubtedly an expensive one for Simmons (McFarlane has proven to be a stubborn litigant over the years, if not always successful). The book at the heart of the suit, the Image non-fiction book The Art of Being Spawn, remains off U.S. e-retailing sites.