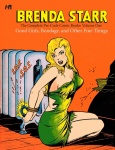 Hermes Press has announced that it will be publishing an archival collection of the first eight issues of Superior Comics' Brenda Starr series from 1948. Entitled Brenda Starr: The Complete Pre-Code Collection Volume One: Good Girls, Bondage, and Other Fine Things, the book will be a 256-page deluxe hardcover edition retailing for $60.00 and available in July 2013.
Including illustrations by Jack Kamen and Matt Baker, Brenda Starr was first published in August 1947 by Four Star Publications. Written by Dale Messick, the series lasted only two issues before being picked up and continued by Superior Publishers Limited in 1948. Also penned by Messick, the title ran for ten issues before resuming publication with Charlton in 1955.
A companion to Hermes' collection of the
Brenda Starr
daily and Sunday newspaper strips, which launched in 2011 (see "
Hermes Gets 'Brenda Starr'
"), the 2013 book will include the original back up features of the comics, as well as documentary materials and a historic essay.
--Nathan Wilson