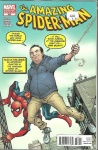 When
Amazing Spider-Man
writer talked about the current storyline that is building to a climax in December, he joked that he might have to go into hiding when fans saw what he was actually planning for everybody's favorite wallcrawler. Now that the main thrust of the saga in which Doc Ock swaps bodies and memories with Peter Parker has become apparent, the writer has received enough death threats via social media that his
Twitter Profile
now reads: "Death threats and threats of violence are being reported. Insults and vulgarity are being blocked. Not criticism. Please be civil. Thank you."
With what happened last week in Connecticut, it is only natural to take death threats and threats of violence seriously. Rather than remaining passive, Slott has made it clear that he will take legal action against anyone who threatens him via social media, posting in response to one outrageous tweet: "Thanks. I know who you are. I have a screen cap. You live in the U.S. That's illegal and NOT covered under free speech. Expect legal action."
Rather than going into hiding Slott appears to be ready to confront those who are making absurd and reckless threats, posting in a reply to a question about how he was handling the situation: "No, not rattled at all. I'm middle aged and out of shape. I can't take someone in a fight. But I CAN sue them (if they make death threats). Till it hurts. So worth it."
In a posting on
Facebook
on Sunday, Slott expanded his thoughts about the situation: "Reality check: There is NO such thing as a "funny death threat." Especially if you TAG someone on it. If you think, because of something happening to a FICTIONAL character, that you need to type out a death threat and SEND it to someone. You. Need. Help. If you follow my twitter, you know I've taken a devlish bit of delight in re-posting these (mainly because them make the OP look like a raving loon--and, for a time, that WAS funny to me.) Well… That's over. From now on, the ALL get reported. The End."
While some fans are obviously reacting to the new
Amazing Spider-Man
story negatively, it must be said that the book experienced one of the biggest jumps in circulation of any as Slott's latest storyline built towards in climax with the November issue of
Amazing Spider-Man
posting a mammoth 39% gain in circulation over the October issue (see "
Marvel Now Titles Dominate November Sales
").